Gabriel Iglesias Adds September Show to
Aces of Comedy Series at The Mirage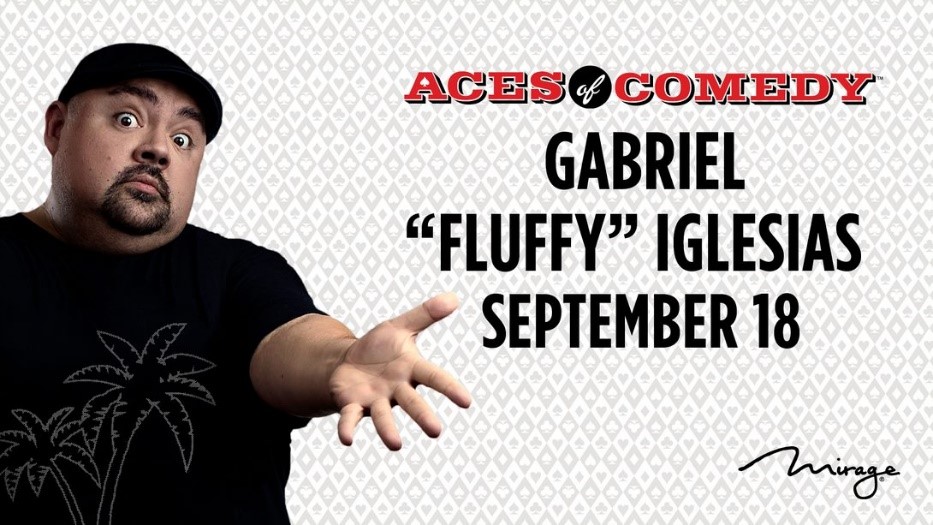 Tickets for Fourth September Show on Sale Friday, June 17 at 10 a.m. PT
Due to popular demand, The Mirage Hotel & Casino announced today Gabriel "Fluffy" Iglesias will perform a fourth show during Mexican Independence Day Weekend Sunday, Sept. 18. The comedian's previously announced September performance dates at The Mirage Theatre as part of the Aces of Comedy Series are September 15 – 17. All shows are scheduled to start at 10 p.m.
Tickets, starting at $59.99 (not including applicable taxes and fees), can be purchased at any MGM Resorts box office, online at mirage.com or ticketmaster.com. Children 16 years of age or older must be accompanied by an adult (18 years of age or older). Children under 16 are not permitted. Members of MGM Rewards, MGM Resorts International's loyalty program, will receive access to a pre-sale running Thursday, June 16 from 10 a.m. PT to 10 p.m. PT.
For high-res images, visit The Mirage Online Newsroom.
See below for a full list of the 2022 Aces of Comedy lineup:
JUNE 2022
June 3 – 4: Ron White
Saturday, June 18: Wayne Brady
Friday, June 24: Kathleen Madigan
JULY 2022
July 1 – 2: Iliza Shlesinger
July 8 – 9: Jimmy O. Yang
July 15 – 16: Daniel Tosh
July 22 – 23: Bill Maher
July 29 – 30: Tom Segura
AUGUST 2022
Friday, Aug. 5: Kathleen Madigan
Saturday, Aug. 6: Chico Bean
August 12 – 13: Jim Jefferies
August 19 – 20: Ron White
SEPTEMBER 2022
September 2 – 3: George Lopez
September 8 – 9: Nurse Blake
Saturday, Sept. 10: Wayne Brady
September 15 – 18: Gabriel Iglesias (fourth show added)
September 23 – 24: Tom Segura
September 30 – October 1: Ray Romano & David Spade
OCTOBER 2022
October 7 – 8: Daniel Tosh
October 14 – 15: Iliza Shlesinger
Saturday, Oct. 22: Chelsea Handler
October 28 – 29: Tom Segura
NOVEMBER 2022
November 4 – 5: Tim Allen
November 11 – 12: Daniel Tosh
November 18 – 19: Jim Jefferies
November 25 – 26: Bill Maher
DECEMBER 2022
Thursday, Dec. 1: Steve Treviño
December 2 – 3: Ron White
Thursday, Dec. 8: Steve Treviño
December 9 – 10: Ron White
December 16 – 17: Ray Romano & David Spade
December 27 – 30: Gabriel Iglesias
About Aces of Comedy
The Aces of Comedy series at The Mirage Hotel & Casino features one of the country's most comprehensive and diverse comedic lineups. Over the last decade, the 1,257-seat Theatre at The Mirage has been the place to enjoy the best comedy in Las Vegas, featuring some of the most popular comedians worldwide including Tim Allen, Tiffany Haddish, Gabriel Iglesias, Jay Leno, Kathleen Madigan, Bill Maher, Ray Romano, David Spade, Iliza Shlesinger, Daniel Tosh and Ron White, among others.
About The Mirage
Ideally located on the Las Vegas Strip, The Mirage Hotel & Casino is the place to stay and play. From its iconic Volcano to the lush tropical pool, guests experience an exotic world-class destination unlike any other. The resort features contemporary accommodations; dynamic entertainment including The Beatles LOVE by Cirque du Soleil, Shin Lim: LIMITLESS and the Aces of Comedy series; tantalizing restaurants created by the world's most renowned chefs including Tom Colicchio; a luxurious spa and salon; and Siegfried & Roy's Secret Garden and Dolphin Habitat. The Mirage is operated by MGM Resorts International (NYSE: MGM). For more information and reservations, visit mirage.com, call toll free at (800) 374-9000, or find us on Instagram, Facebook and Twitter.
Summary
Article Name
Gabriel Iglesias Adds September Show to Aces of Comedy Series at The Mirage
Description
Gabriel Iglesias Adds September Show to Aces of Comedy Series at The Mirage