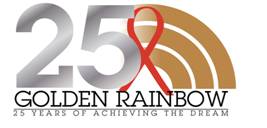 GOLDEN RAINBOW PRESENTS 26TH ANNUAL "RIBBON OF LIFE" SPECTACULAR AT
THE SMITH CENTER FOR THE PERFORMING ARTS JUNE 24
WHAT: Golden Rainbow presents its 26th annual "Ribbon of Life" fundraiser at The Smith Center for the Performing Arts on Sunday, June 24.
WHO: Hosted by 8 News NOW anchor Chris Saldaña, this year's show includes Broadway in the Hood, performers from Centrifuge, Chippendales, Clint Holmes, Dancing Queen, performers from David Saxe Productions, performers from Frank Marino's Divas Las Vegas, George Wallace, Jubilee!, Las Vegas City Ballet, Las Vegas Deaf Theatre, Las Vegas Men's Chorus, Mo5aic, Nevada Ballet Theatre, performers from PEEPSHOW, performers from Phantom: The Las Vegas Spectacular, Reva Rice and the cast of VEGAS! The Show, performers from RagTag Entertainment, performers from Searcy Entertainment, Showgirls Across America, Spirit of the Dance, The Asian Pacific Performing Arts Alliance, The Desert Angels Gospel Choir, The Las Vegas Tenors, performers from Viva Elvis and more.
WHEN:
Sunday, June 24
1 p.m.
WHERE:
The Smith Center for the Performing Arts
361 Symphony Park Ave.
Las Vegas, NV 89106
DETAILS: Golden Rainbow's "Ribbon of Life" is a completely original show unlike any other in the city, giving guests the opportunity to fight for a cause and get a taste of exclusive Las Vegas local and headlining acts. The spectacular is one of the largest HIV/AIDS fundraisers in the state of Nevada and Golden Rainbow's main source of revenue. All proceeds directly benefit the nonprofit's Direct Financial Assistance and Affordable Housing programs.
The "Ribbon of Life" silent auction is now available and features show tickets, vacation packages, gift cards, jewelry and more at http://ribbon.auction-bid.org/. Bidding is open to the public and ends at 5 p.m. on Sunday, June 24.
TICKETS:Tickets start at $38 and are available for purchase at thesmithcenter.com, goldenrainbow.org and The Smith Center box office at 702.749.2000.
ABOUT GOLDEN RAINBOW: Celebrating 25 years of service to the Southern Nevada area, Golden Rainbow is a nonprofit organization that provides housing and direct financial assistance to men, women and children living with HIV/AIDS. Founded by members of the entertainment industry in 1987, Golden Rainbow is committed to serving the HIV/AIDS community through fundraisers like Ribbon of Life and HIV/AIDS related education. For more information, visit www.goldenrainbow.org or call 702.384.2899.