ILLUMINARIUM LAS VEGAS ANNOUNCES PARTNERSHIP WITH RENOWNED HOSPITALITY INDUSTRY VETERANS BLAU + ASSOCIATES
FOR LUMIN CAFÉ & KITCHEN
The Illuminarium tech-driven entertainment experience will feature a contemporary dining concept including breakfast, lunch, dinner, kids menus, late-night and dessert offerings
Illuminarium Las Vegas, set to open April 15 at AREA15, announced an exciting partnership with celebrated James Beard Award-nominated and husband-wife business partners, Elizabeth Blau and Chef Kim Canteenwalla of Blau + Associates, to further ignite guests' senses. Launching with the opening of Illuminarium, Lumin Café & Kitchen will provide a contemporary culinary experience with fresh dishes and specialty cocktails. The dining concept will feature a warm environment including wood accents, greenery and natural light and will be accompanied by an outdoor covered patio with a full-service bar
"Creating original and appealing dining experiences for the Las Vegas community is a passion of mine and Kim's, and having the opportunity to collaborate on such an innovative and groundbreaking concept like Illuminarium is very exciting," said Elizabeth Blau. "Lumin Café & Kitchen will provide guests with a culinary experience to pleasantly complement the entertainment features of Illuminarium."
"We're delighted to partner with Elizabeth Blau and Kim Canteenwalla to bring their innovative restaurant experience to Lumin Café & Kitchen as an added experience for our guests," Alan Greenberg, CEO of Illuminarium Experiences said. "Introducing Illuminarium to Las Vegas, we wanted to bring a unique dining concept to create an all-encompassing experience. Partnering with Elizabeth and Kim was important, as they are the pillars in the restaurant scene and the Las Vegas community."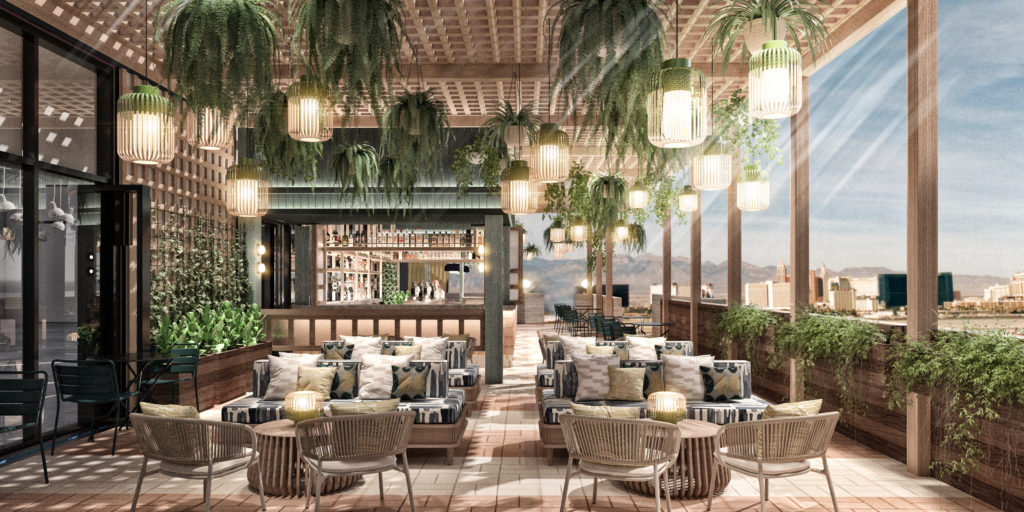 Designed by award-winning architecture and design firm Rockwell Group, Lumin Café & Kitchen is an inviting indoor-outdoor oasis. The material palette layers natural woods with garden-inspired elements and colorful patterns. A floating white oak trellis interspersed with lush plants and pendant lighting creates a relaxed atmosphere throughout the indoor café and exterior patio.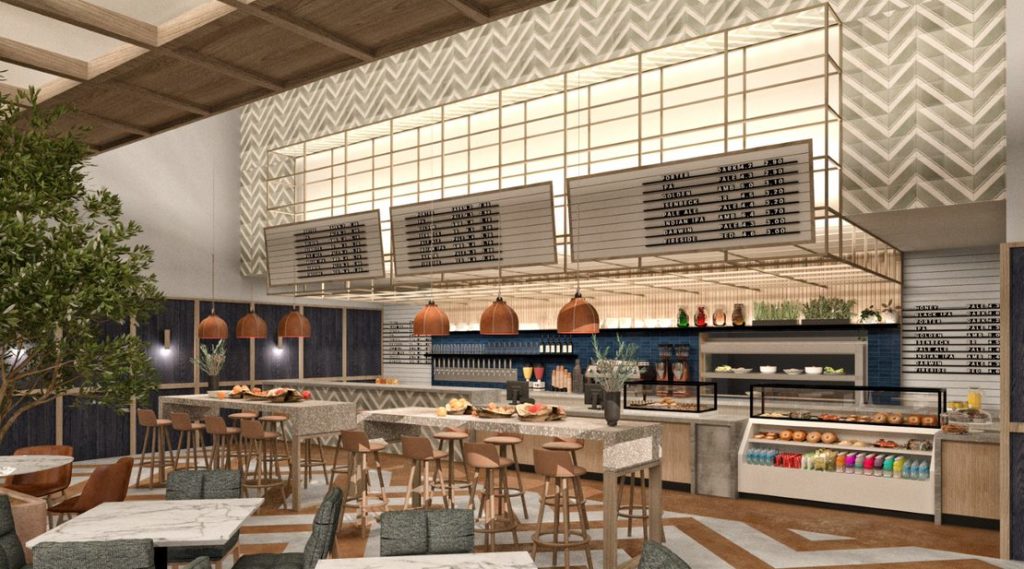 Lumin Café & Kitchen will offer breakfast items, small and large plates for all-day dining, a kid's menu and a selection of grab-and-go options. Guests looking to enjoy the After Dark experiences will also have the opportunity to delight in Lumin Café & Kitchen's late-night menu.
Menu offerings include:
Breakfast items such as the Breakfast Sandwich, Greek Yogurt Parfait and Berry Breakfast Smoothie
Small plate options including Pretzel Bites and a Tater Tot Poutine
Large plate options such as Fish & Chips and Korean Fried Chicken
Burgers options include the Impossible, Classic and the Lumin Burger
Side items to accompany delicious dishes include parmesan and truffle fries, mac and cheese with ritz cracker crust and onion rings
After Dark Late-Night menu to include items such as Hot Chicken Sliders and Crispy Arancini
Sweet treats including dark chocolate chip cookies, s'mores nachos and milkshakes
Lumin Café & Kitchen will be located inside Illuminarium Las Vegas at AREA15 and will be open to the public daily from 11 a.m. to 8 p.m. The late-night menu will be available on the patio beginning at 8 p.m. Tickets are not required to visit Lumin.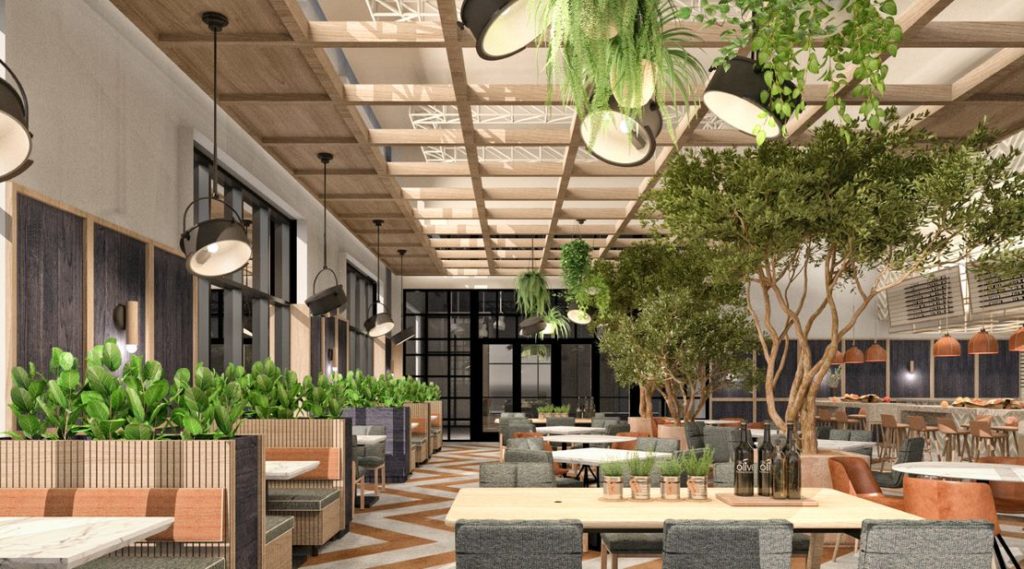 The 36,000-square-foot entertainment complex will open with three epic experiences including WILD: A Safari Experience, SPACE: A Journey to the Moon & Beyond and O'KEEFFE: One Hundred Flowers. Illuminarium will also offer an immersive nightlife experience, Illuminarium After Dark, for adults 21+, in addition to Lumin Café & Kitchen. For more information and to purchase tickets for the attraction, guests may visit illuminarium.com/lasvegas. Visitors may join the conversation on Facebook, Instagram and TikTok.
About Illuminarium Experiences
Illuminarium Experiences is a global experiential company offering breakthrough immersive 360-degree cinematic entertainment in expansive, projected spaces. Presented in custom-designed venues, Illuminarium surrounds visitors in a sensory space of sight, sound and scale unlike any other, providing boundless experiences and a personal connection to the world around them. With a fully customizable canvas, Illuminarium is the ideal location for special events, group outings, and viewing parties. Created by Alan Greenberg, RadicalMedia and Rockwell Group, Illuminarium Experiences brings together best-in-class partners in content creation, theatrical design, interactive technologies and venue operations. Illuminarium has locations in Atlanta, Las Vegas, with additional markets to be announced soon. For more information and to purchase tickets, guests may visit illuminarium.com.
About Elizabeth Blau
Elizabeth Blau is the founder and CEO of restaurant development company Blau + Associates and is widely credited with transforming Las Vegas into the world-class culinary destination it is today. Her work creating the restaurant portfolios at both Bellagio and Wynn forever transformed the food and beverage philosophy of the city. A judge on CNBC's Restaurant Startup, she also operates several restaurants in Las Vegas and Vancouver with her husband chef Kim Canteenwalla. Blau and Canteenwalla co-authored "Honey Salt: A Culinary Scrapbook," which was named Best Cookbook of 2018 by Food & Beverage Magazine.
About Kim Canteenwalla
Chef Kim Canteenwalla provides a diverse range of international expertise with more than 30 years of culinary and industry leadership. He has led restaurants and resorts around the world including Singapore, Bermuda, Dubai, Cambodia, Toronto, and Montreal, and is the former Executive Chef for MGM Grand in Las Vegas. Along with wife Elizabeth Blau, Kim is the Chef-Owner of the acclaimed Las Vegas restaurant Honey Salt and managing partner of Buddy V's Ristorante at the Venetian. In 2017, Kim conceptualized and developed multiple world-class food and beverage outlets in Vancouver, Canada which he continues to operate today.
About Rockwell Group
Based in New York with offices in Los Angeles and Madrid, Rockwell Group is an interdisciplinary architecture and design firm that emphasizes innovation and thought leadership in every project. Inspired by theater, technology, and high-end craft, the 250-person firm creates a unique narrative for each project, ranging from restaurants and hotels, to cultural and educational institutions, to airport terminals, festivals, museum exhibitions, and Broadway sets. Honors and recognition include the 2016 Tony Award for Best Scenic Design for She Loves Me; two Emmy Awards for production design for the Oscars (2021 and 2010) the AIANY President's Award; the Cooper Hewitt National Design Award; and the Presidential Design Award. For more information, please visit www.rockwellgroup.com.
About AREA15 Las Vegas
AREA15, located minutes from the Las Vegas Strip, represents the world's first purpose-built immersive entertainment district offering live events, distinctive attractions, interactive art installations, extraordinary design elements, unique retail, ground-breaking technology, bars and eateries and much more. AREA15's curated mix of dynamic destinations—including Meow Wolf's Omega Mart, Lost Spirits Distillery, Illuminarium, Dueling Axes, Five Iron Golf, The Beast by Todd English, Wink World: Portals Into the Infinite, Museum Fiasco, Virtualis VR, Emporium Arcade Bar and many more—represents what's next in experiential entertainment. With a robust, ever-changing roster of concerts, events, immersive art exhibitions, out-of-this-world nightlife and boundary-pushing production shows, AREA15 attracts visitors of all ages.
AREA15 has received numerous accolades, including being named "Best Immersive Art Experience" by USA Today 10Best Readers' Choice Travel Awards, one of "The 10 Most Innovative Urban Development and Real Estate Companies of 2020" by Fast Company, "Reader's Choice—Best Attraction" by Las Vegas Weekly, "Best Arts Hub" by Vegas Magazine, claiming the No. 1 spot in Blooloop's "World's Top 11 Immersive Art Experiences" and being included in Las Vegas Magazine's Hall of Fame.
Summary
Article Name
ILLUMINARIUM LAS VEGAS ANNOUNCES PARTNERSHIP WITH RENOWNED HOSPITALITY INDUSTRY VETERANS BLAU + ASSOCIATES FOR LUMIN CAFÉ & KITCHEN
Description
ILLUMINARIUM LAS VEGAS ANNOUNCES PARTNERSHIP WITH RENOWNED HOSPITALITY INDUSTRY VETERANS BLAU + ASSOCIATES FOR LUMIN CAFÉ & KITCHEN