Jazz Outreach Initiative's "JOI Jazz Orchestra" Presents Duke Ellington's "Nutcracker Suite" Along with Holiday Favorites
Performed by Clint Holmes and Kenny Rampton, Dec. 21, 6pm
"Jazz Routes" Donates Instrument and Music Lessons for a Year to Student at Girls Athletic Leadership School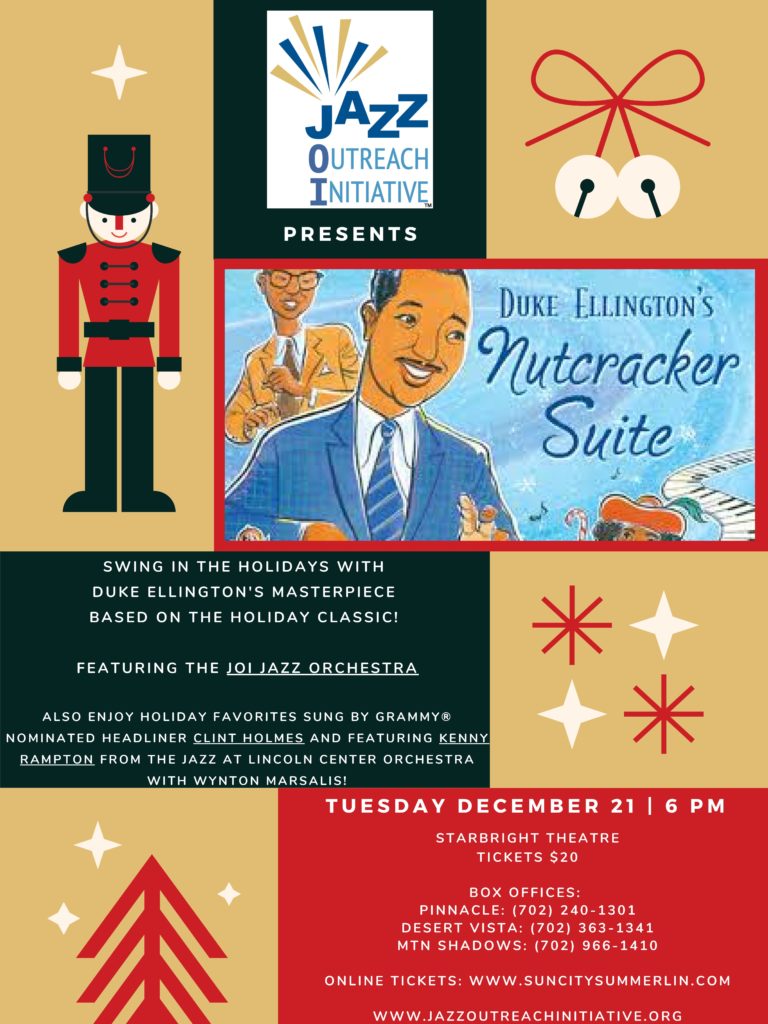 Jazz Outreach Initiative's "JOI Jazz Orchestra" will perform selections from Duke Ellington's "The Nutcracker Suite" along with holiday favorite Christmas songs sung by multi- GRAMMY® nominated headliner, Clint Holmes with jazz trumpet master and JOI Co-founder and Artistic Director, Kenny Rampton (Jazz at Lincoln Center Orchestra with Wynton Marsalis) on December 21 at 6pm. Songs will include a selection from the recently donated original charts of the Glenn Miller Orchestra's multi platinum Christmas album series, "In The Christmas Mood," along with other holiday favorites.
As part of the JOI Jazz Orchestra's mission to celebrate the enormous talent of the local jazz community, Rampton has commissioned original arrangements for the JOI Jazz Orchestra and Clint Holmes from nationally renowned local musicians and composers, Nathan Tanouye and Jorge Machain who are also members of the band. These arrangements include Rodgers and Hammerstein's "The Sound of Music" classic, "My Favorite Things" arranged by Tanouye, and Katherine Kennicott Davis's classic Christmas carol, "The Little Drummer Boy," arranged by Machain. An interesting connection between the two songs is that the "Sound of Music" song was performedby the Von Trapp Family characters while the first recording of "The Little Drummer Boy" in 1951 was sung by the actual Von Trapp Family Singers.
In keeping with the holiday spirit of giving, Jazz Outreach Initiative's Executive Director, Donny Thompson will also present a local economically disadvantaged student with a free donated saxophone and a year of free private music lessons taught by one of the outstanding musicians in the JOI Jazz Orchestra. Liliana Hoopes is a student at Girls Athletic Leadership School (GALS), the only all-girls Title 1 Charter School in Southern Nevada. She was selected by GALS Exec. Dir., Krista Yarberry after an essay competition. Liliana will be JOI's second student in their "Jazz Routes" program, an outreach effort which places donated instruments into the hands of youth along with a free year's private lessons paid for by donor sponsors.
The big band will also perform selections from the Glenn Miller Orchestra's multi- platinum album, "In the Christmas Mood," courtesy of the album's producer and former member of the Glenn Miller Orchestra, Dale Thompson. Thompson donated the original album charts and will also attend the concert.
CONCERT TIME, DATE, LOCATION:
STARBRIGHT THEATRE | SUN CITY SUMMERLIN | 6:00 PM
2215 THOMAS W RYAN BLVD | LAS VEGAS, NV 89134
CONCERT TICKETS:
TICKETS: WWW.SUNCITYSUMMERLIN.COM OR BOX OFFICES:
PINNACLE: (702) 240-1301
DESERT VISTA: (702) 363-1341
MTN SHADOWS: (702) 966-1410
ABOUT THE JOI JAZZ ORCHESTRA
The JOI Jazz Orchestra was founded in late 2020 and is a professional big band made up of some of the finest musicians in the world. Many of these performers also serve as volunteer mentors with JOI's Las Vegas Youth Jazz Orchestra. The JOI Jazz Orchestra released two YouTube recordings in December and January, including a world premier of Kenny Rampton's arrangement of "Smile" featuring Clint Holmes and members of the LV Philharmonic strings, and "Merry Christmas Baby" arranged by Sherman Irby for the Jazz at Lincoln Center Orchestra with Wynton Marsalis. The JJO debuted live in Las Vegas recently at a concert at Community
Lutheran Church celebrating the church's offering of their former office building for JOI to use for its rehearsals and other essential functions.
An important presentation will be made during this concert. JOI's Jazz Routes program provides donated instruments to disadvantaged and system-impacted youth in our community along with an entire year of private lessons sponsored by generous donors. JOI will award its newest Jazz Routes student the gift of a musical instrument and introduce the child to their teacher during the performance! For youth benefitting from this worthy program, "Dreams can come true if you believe!"
About Jazz Outreach Initiative
Jazz Outreach Initiative is a 501(c)(3) music educational nonprofit charity whose programs connect the language of music to the language of life for youth throughout our community. JOI operates on three primary pillars, jazz awareness and outreach programs, educational programs, and performances. JOI hosts the nation's largest annual Regional Essentially Ellington High School Jazz Band Festival. JOI also founded and leads the Las Vegas Youth Jazz Orchestra comprised of middle school and high school aged students from across the valley. JOI also presents educational programs at CCSD elementary, middle, and high schools with an emphasis on Title 1 "at risk" populations. And recently JOI launched "Jazz Routes," which provides youth with donated instruments and a year of free private lessons.

For more information on Jazz Outreach Initiative's programs and Board of Directors
Website is www.jazzoutreachinitiative.org
Facebook at www.facebook.com/joi4jazz
Instagram at @jazzoutreachinitiative
Twitter at #JOI4Jazz
JOI is a GuideStar Platinum rated charity. https://www.guidestar.org/profile/81-5201389
Summary
Article Name
JOI Jazz Orchestra Presents Duke Ellington Nutcracker Suite with Clint Holmes and Kenny Rampton- Donates Year of Music Lessons to Student at Local School
Description
JOI Jazz Orchestra Presents Duke Ellington Nutcracker Suite with Clint Holmes and Kenny Rampton- Donates Year of Music Lessons to Student at Local School