LEGENDARY REGGAE ARTISTS STEEL PULSE, COLLIE BUDDZ, FORTUNATE YOUTH, ARISE ROOTS, AND MORE TO BRING THEIR ROOTS RHYTHM TO THE 21ST ANNUAL REGGAE IN THE DESERT
Downtown Las Vegas transforms into a Roots Reggae paradise with
authentic fare, vendors, live performances, and more
Saturday, April 20, 2024 at the Clark County Amphitheatre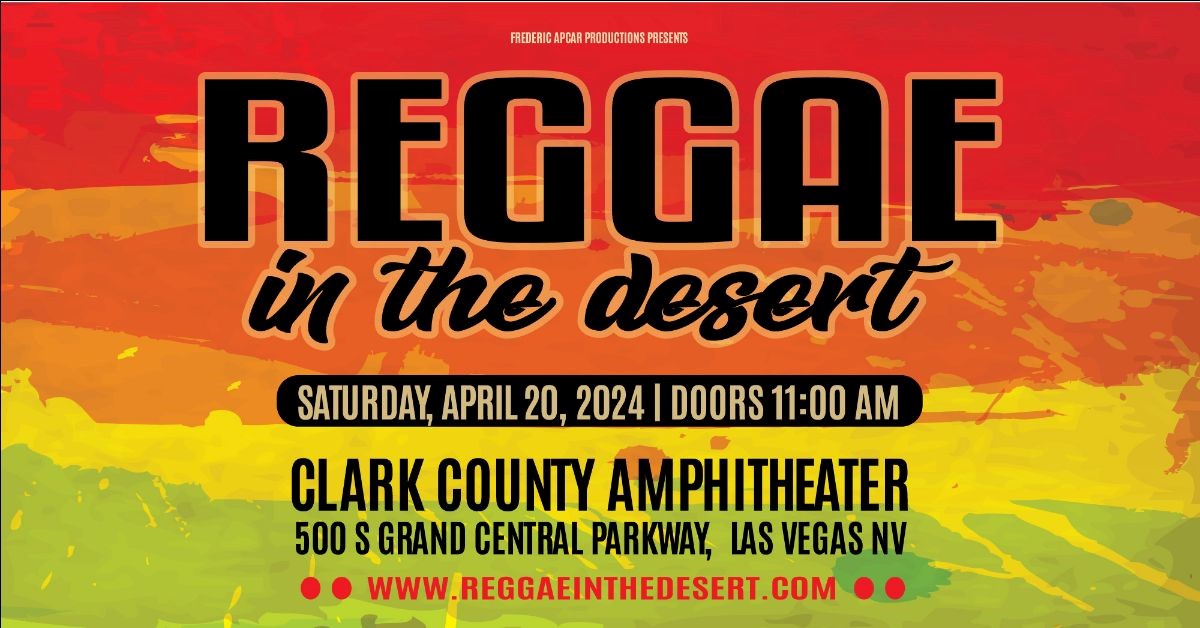 Las Vegas' largest Roots Reggae festival Reggae in the Desert returns to the Clark County Amphitheatre Saturday, April 20, 2024 for its 21st year. For one day, Downtown Las Vegas embraces the Jamaican culture with island-inspired food and craft vendors as well as live performances from top reggae artists such as the legendary Steel Pulse, who are celebrating more than four decades of creating music, Collie Buddz, Fortunate Youth, Arise Roots, The Holdup, and Las Vegas' own The Majority, with special guests Bounce Cruz, DJ Matt Lucio, and host DJ Ramma.
Bearing witness to the accelerating negativity of global affairs, UK reggae legends, Steel Pulse, emerge with musical vengeance to halt the disarray of humanity. The band's latest album, Mass Manipulation, reflects four decades of bettering mankind through music. The debut single "Stop You Coming And Come" featured ancient melodies paired with catchy lyrics, transporting the mind to a period of time where secrets of an African dynasty are unmasked. As reggae revolutionaries, Steel Pulse is revered by the younger generation of artists and remains a powerhouse on stages around the globe. Through the example of Mass Manipulation, Steel Pulse demonstrates the endless possibilities that come from breaking down the walls of systemic greed and nurturing the fellowship of mankind.
Born in New Orleans but raised in Bermuda, dancehall singer Collie Buddz was entranced by the urban music of his island home. He favored dancehall the most, but soca and hip-hop were important too, all of which exploded out the speakers of his DJ brother. His brother was also involved in recording Collie's demo track "Come Around," an infectious song that blew up in Europe and topped the charts in the U.K. before it came to Jamaica. As the marijuana anthem was climbing the JA charts all the way up to number one, rapper Busta Rhymes cut his own unauthorized remix, which increased the track's presence on urban American radio. Guest vocals on a remix of Beyoncé's "Ring the Alarm" began his relationship with the Sony label, while hooking up with Lil' Flip for the rapper's I Need Mine album kept spreading the Collie Buddz name on the streets. Everything was in place as his second single, "Mamacita," and his self-titled debut album were both released by Sony in the summer of 2007. In 2011 he returned with the free download EP Playback. In 2014 he released the singles "Light It Up" plus "Yesterday" with Riff Raff and Snoop Dogg, while the release of "Prescription" followed in 2015. Following an extended hiatus, Buddz returned in 2017 with his second full-length album, Good Life, featuring guest appearances from Kat Dahlia, Kreesha Turner, P-Lo, Jody Highroller, and Snoop Dogg. The album topped the U.S. Reggae chart. Two years later, he returned with his third album, the self-produced Hybrid. Collie Buddz's latest album Take it Easy was released in 2023.
From backyard BBQs in Southern California beach towns to its rise as one of the most popular reggae rock bands in the country, Fortunate Youth remains devoted to its roots and a simple mission: Spread peace, love, and unity with music. It's a mantra of sorts for the multi-faceted sextet from Hermosa Beach, driving a relentless thirst for live performances and an ever-evolving cache of original material dotted with influences of blues, ska, rock, world, soul, and punk.
Dedicated to performing live, the ensemble has logged countless miles across the globe, with F.Y. supporting brethren such as Slightly Stoopid, Stick Figure, and SOJA.
Arise Roots was formed in 2010 with the intent to create a new and unique roots-reggae band which reflects their collective passions. Rising up from the streets of Los Angeles, the band had one goal: create a fresh reggae sound with a modern feel that appeals to all walks of life without compromising the true feel of roots reggae. In 2010, the band released their first EP titled, Lay Your Guns Down. They later received recognition with the 2013 release of their first full-length album, Moving Forward. In 2014, Arise Roots linked with E.N Young at Imperial Sound Recording Studio to record Love and War. In 2016, the popular single "Rootsman Town" featuring Capleton was released independently with a music video that garnered millions of views on YouTube and continues to be one of their more popular songs. In the midst of a worldwide pandemic, Arise Roots released their highly anticipated LP Pathways in June of 2020 on Ineffable Records. Touching on everything from social issues to love songs and cementing their place in the reggae scene with their hit single "Come and Get It," the album was a huge success for the band. The highly praised album features some of the biggest names in reggae such as Kyle McDonald of Slightly Stoopid, Eric Rachmany of Rebelution, Lutan Fyah, Nattali Rize and Turbulence.
As today's reggae music scene has branched out into multiple sub-genres, Southern California's Arise Roots has helped keep the ever-evolving sound of reggae music grounded with their fresh take on roots music. Throughout their time together, Arise Roots has shared the stage with artists such as Barrington Levy, Steel Pulse, Capleton, Sister Carol, Gramps Morgan, Don Carlos, The Wailers, Luciano, Matisyahu, Midnite, Michael Rose, Gondwana, Cultura Profetica, Big Youth, The Aggrolites, Tristan Palmer, Sammy Dread, Stephen Marley, Ky-Mani Marley, Ken Boothe, Carlton and The Shoes, Freddie McGregor, The Meditations, Rebelution, Slightly Stoopid, Fortunate Youth, Hirie, Dirty Heads, Tribal Seeds, KRS One, Public Enemy, Redman and Method Man of the Wu Tang Clan, and many more.
Coming from San Jose, CA, The Holdup has built a cult following writing and producing his own brand of groovy, melody driven, pop music, borrowing influences from R&B, reggae, and hip hop. Often mistaken for a group, he has been a one-man labor in the studio writing, producing, performing and engineering everything you hear on his albums. His catchy hooks and unapologetic lyrics have helped him sell out mainstay venues across the U.S. as well as clock in over 150+ million worldwide streams and counting…
The Majority is a contemporary Reggae band based in Las Vegas, NV (USA). Pulling elements from RnB, Pop, Hip Hop, Country and Rock, they fuse all of their influences to make what is "The Majority" sound. All members reside in Las Vegas but come from different Polynesian islands including Hawaii and Samoa.
The 21st Annual Reggae in the Desert will be held at the Clark County Government Center Amphitheater at 500 S. Grand Central Parkway, Las Vegas, NV 89155 on Saturday, April 20, 2024. Doors open at 11 a.m. and the event concludes at 11 p.m. General admission tickets are on sale, with Early Bird tickets (through December 31, 2023) starting at $49.99 plus tax and applicable fees. Tickets are $59.99 plus tax and applicable fees beginning January 1, 2024, $69.99 plus tax and applicable fees beginning March 1, 2024, and $79.99 plus tax and applicable fees the day of the event. Reggae in the Desert is an all-ages event. Children eight years of age and under receive free entrance.
Merchandise packages are available starting at $75 plus tax and applicable fees and include a ticket to the festival, one event poster, and one event T-shirt. VIP packages, including the merchandise package, a private restroom with air conditioning, and Pyramid Access with artist meet and greets, are available starting at $199 plus tax and applicable fees.
Payment plans are available online. No cash will be accepted at the door for tickets, credit card only on the day of the show. All seats are general admission and available on a first-come, first-served basis. No re-entry is permitted. Reggae in the Desert is a rain or shine event, no refunds will be issued.
For more information or to purchase tickets, please visit reggaeinthedesert.com or https://www.seetickets.us/event/Reggae-In-The-Desert/571921?sp=Y8SNMS.
Vendors in the Caribbean Islands Vendor Village will have a wide assortment Jamaican and Caribbean-style food including jerk chicken, peas & rice and fried plantains. In addition to water and non-alcoholic refreshments, domestic and imported beers will be available. Various exhibits and Caribbean-inspired vendors will also be on site. ATMs are available.
Blankets for lawn seating are permitted, as well as one unopened/factory sealed bottle of water per person, still cameras (no video) and sunscreen. No weapons (with or without permit) are allowed. Other forbidden items include blow horns, balloons, umbrellas, lawn chairs, squirt and water guns, or video equipment. No consumption of any illegal substances on festival grounds. No video equipment, unauthorized vending, concessions, merchandise, or promotions literature.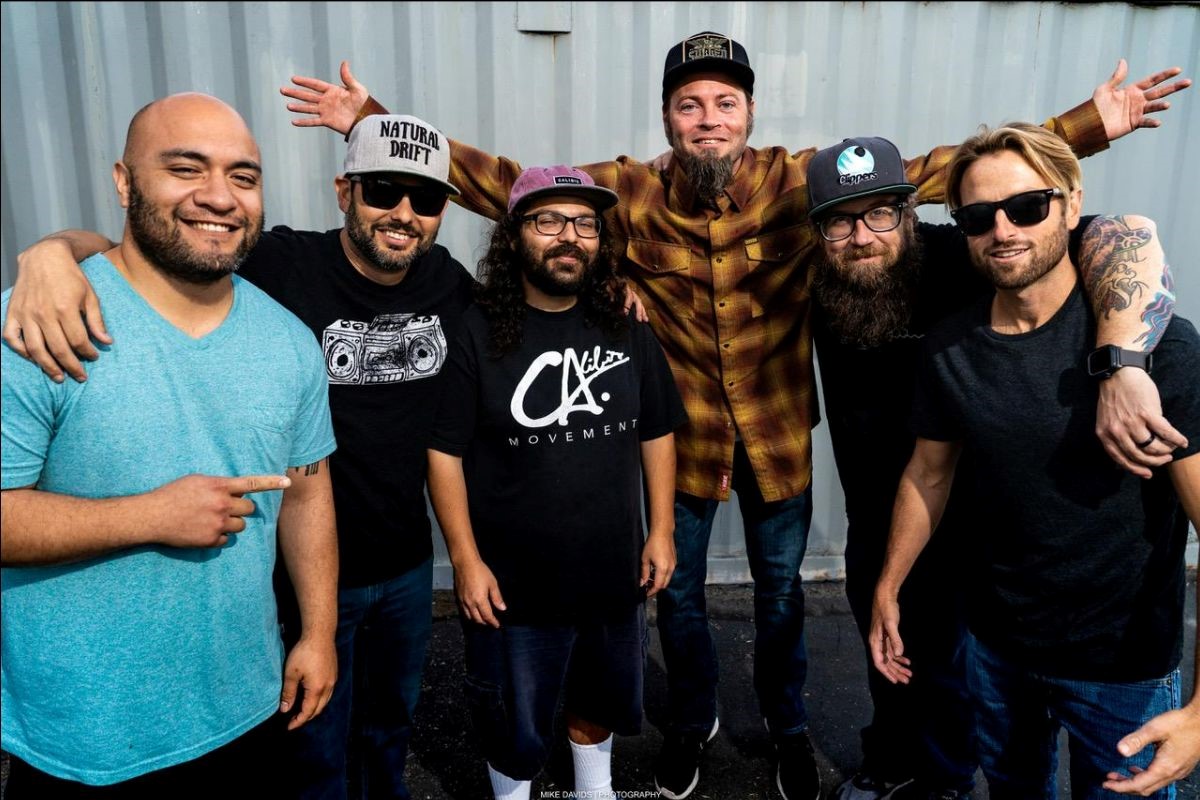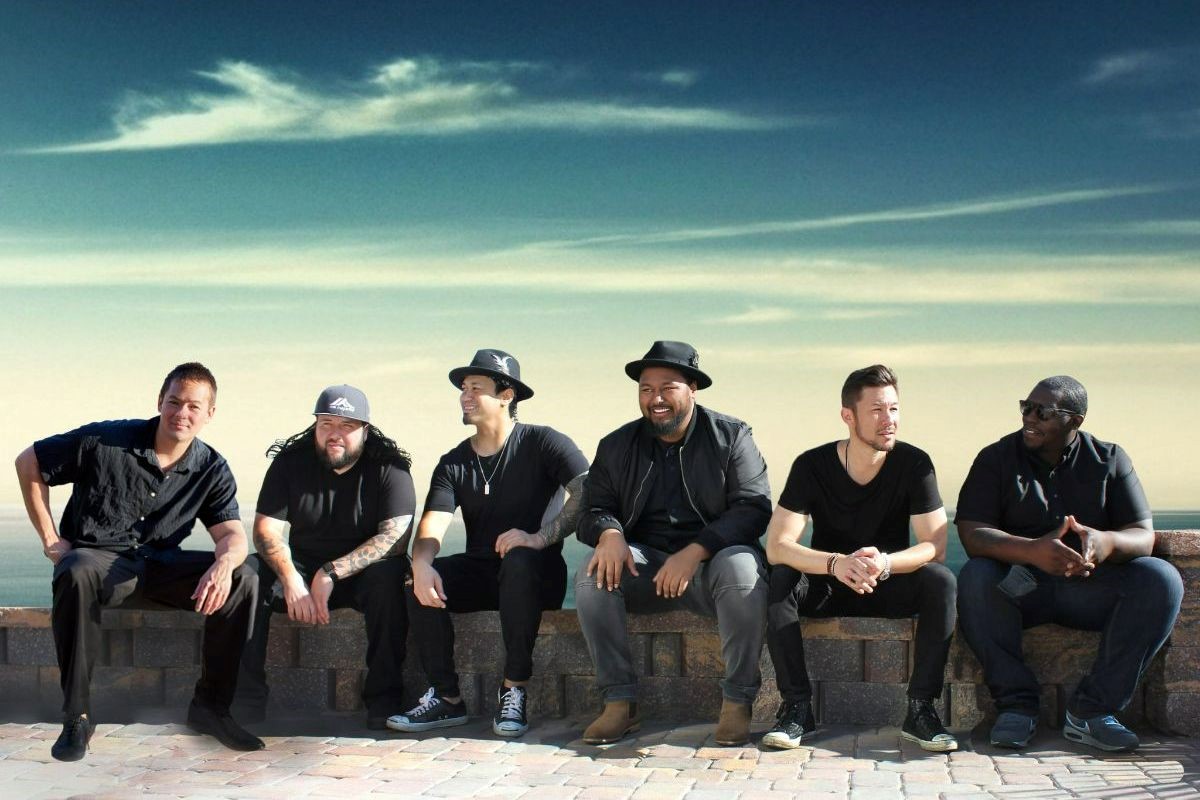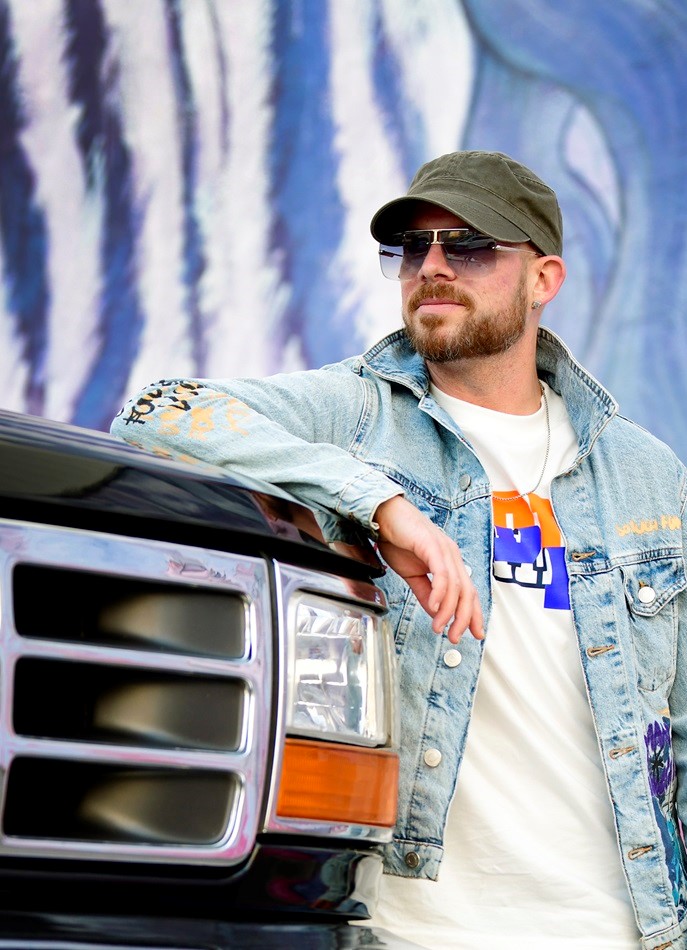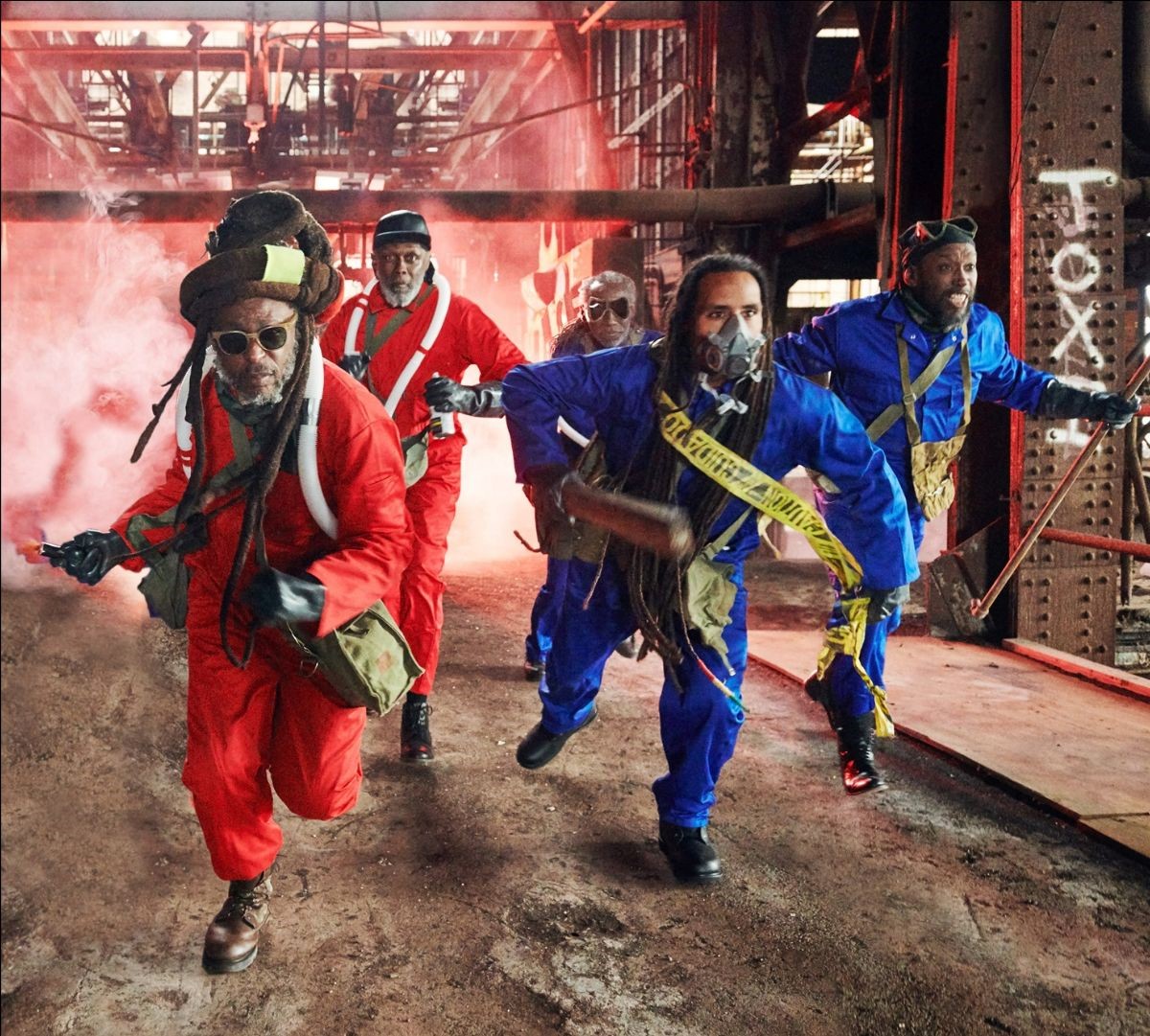 Summary
Article Name
Legendary reggae artists Steel Pulse, Collie Buddz, Fortunate Youth, and more to bring their roots rhythm to the 21st Annual Reggae in the Desert
Description
Legendary reggae artists Steel Pulse, Collie Buddz, Fortunate Youth, and more to bring their roots rhythm to the 21st Annual Reggae in the Desert