RAVEALATION & DLVEC PRESENTS JACKPOT AT THE DOWNTOWN LAS VEGAS EVENTS CENTER, DECEMBER 30
KASKADE, ARMNHMR, DEORRO And More to Take Part in New Year's Eve Weekend in Downtown Las Vegas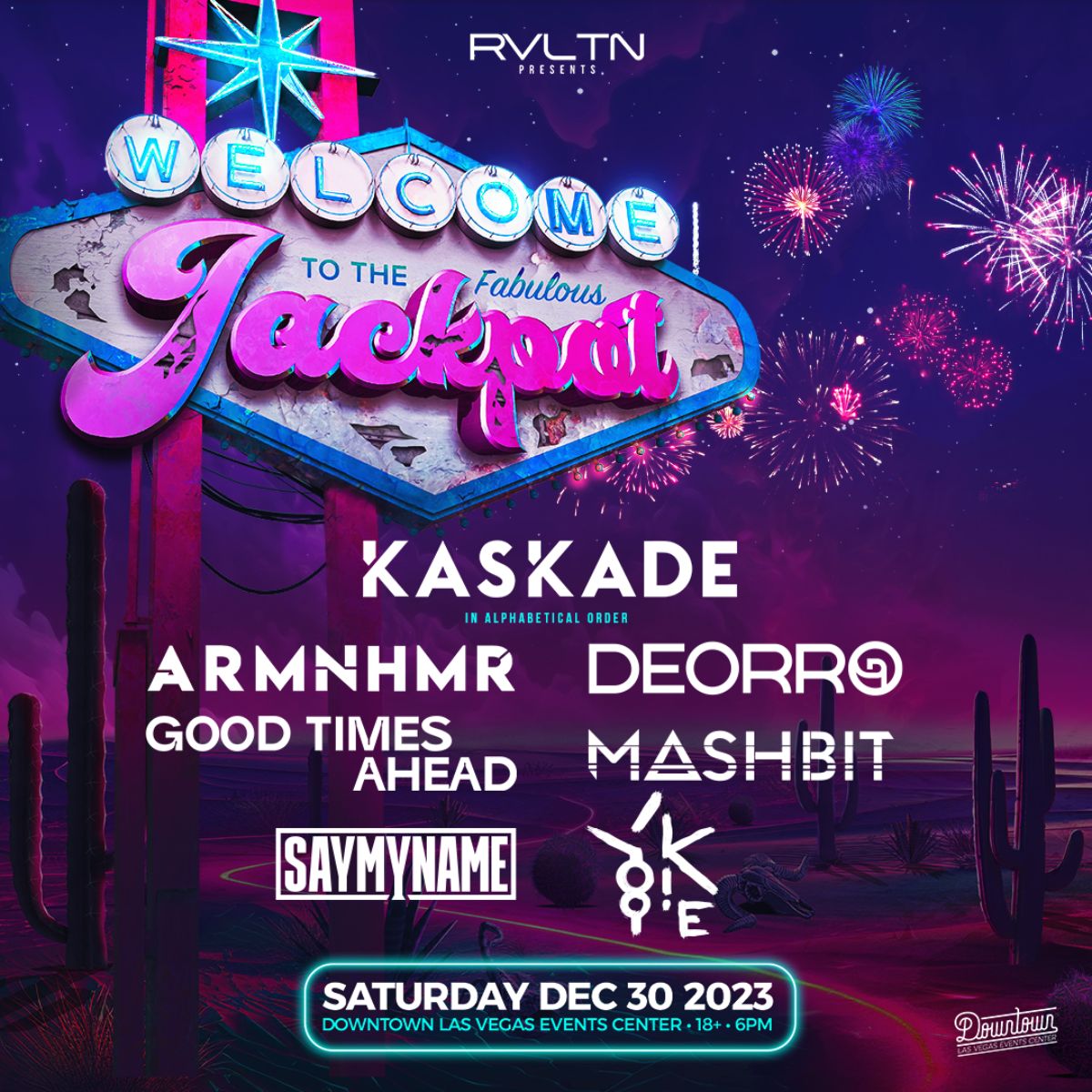 Ravealation Events and Downtown Las Vegas Events Center add an eclectic lineup to New Year's Eve Weekend for their second annual Jackpot event. Ravealation are a Vegas native, genre focused brand that specializes in dubstep, house, trap, and heavy-based events within the EDM spectrum. Their continuous efforts are recognized through the wide range of hard-hitting bass events they've delivered to the city throughout the years, just like last year's Jackpot.
This year headliner, Kaskade, and support acts (in alphabetical order) ARMNHMR, Deorro, Good Times Ahead, Mashbit, SAYMYNAME, and YOOKiE will be leading the night into various EDM genres and sounds to the Downtown Las Vegas Events Center stage. Grammy-nominated electronic producer, Kaskade, is a titan in the dance music world as he was the first DJ to introduce the concept for Las Vegas residencies. Bringing him back to his roots, this NYE Weekend Event in Downtown Las Vegas is sure to be an absolute hit.
The remainder of the lineup is curated of many different EDM artists that have all made an impact in the electronic scene in the past couple of years. ARMNHMR are an EDM melodic bass production duo that just recently wrapped up an entirely sold out 20 date EP tour including a debut on the EDC Las Vegas main stage. House and Latin DJ Producer, Deorro, will be returning to the DLVEC grounds for the second time to bring his genre-defying expertise that have broken cultural barriers which have led him to be a now globally certified, platinum-selling artist.
Good Times Ahead will be bringing their electro house, trap and hip hop sounds all the way from Miami. Electronic DJ, Mashbit has proven his presence in the electronic world with his incredible melodies and chord progressions alongside his experience as support for other well-known legendary artists including, Slander, Diplo, Illenium and more. The man known as the godfather of hardtrap, SAYMYNAME, is a genre pioneer ready to bring his ground-breaking music to the stage. YOOKiE is a young production duo, known for their high energy bass music and unique on-stage presence.
Jackpot 2023 will be taking place in the DLVEC Tent for a more intimate atmosphere and climate-controlled environment. Food options will be available for purchase throughout the duration of the event. All guests must be 18+ to enter with a valid form of identification. Doors open at 6:00 p.m.
Tickets go on sale on 11/9 at 11AM PST. For more information, please visit https://dlvec.com/event/jackpot/.
About the Downtown Las Vegas Events Center
Located on the corner of Third Street and Carson Ave. in Downtown Las Vegas, the Downtown Las Vegas Events Center (DLVEC) is the ultimate entertainment destination. The 120,000 square ft multipurpose space offers a variety of layouts, ranging from music festivals, sports viewing parties, corporate events,
and more. With the ability to expand and contract based on event, they can accommodate up to 20,000 guests. Both tourists and locals alike are invited to explore the DLVEC. The venue features a state-of-the-art stage, incredible lighting, and clear sound that is sure to leave attendees amazed. For more information, visit www.dlvec.com or follow on Facebook, Instagram, Twitter, and LinkedIn at @DLVEC.
About Ravealation Events
RVLTN is a Las Vegas-based event production company driven by an unrelenting passion for music. Since the brand's inception in 2012, RVLTN has grown into one of the most prolific independent electronic promoters on the west coast, producing hundreds of club nights, concerts, and outdoor festivals on an annual basis. The RVLTN team also organizes a portfolio of branded event experiences including JACKPOT NYE, Altura Presents, XO, Holy House, Elation, Chromatic, Sinema, Bass N' Trapment and Turbulence – to name a few. They are tastemakers, experience-creators and forward-thinking entrepreneurs with a unique vision for the future of the live electronic music space in Las Vegas and beyond.
Summary
Article Name
RAVEALATION & DLVEC PRESENTS JACKPOT AT THE DOWNTOWN LAS VEGAS EVENTS CENTER, DECEMBER 30
Description
RAVEALATION & DLVEC PRESENTS JACKPOT AT THE DOWNTOWN LAS VEGAS EVENTS CENTER, DECEMBER 30