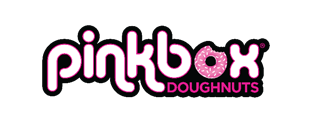 Pinkbox Doughnuts® announces doughnut line up for Labor Day Weekend
September Doughnuts of the Month inspired by seasonal desserts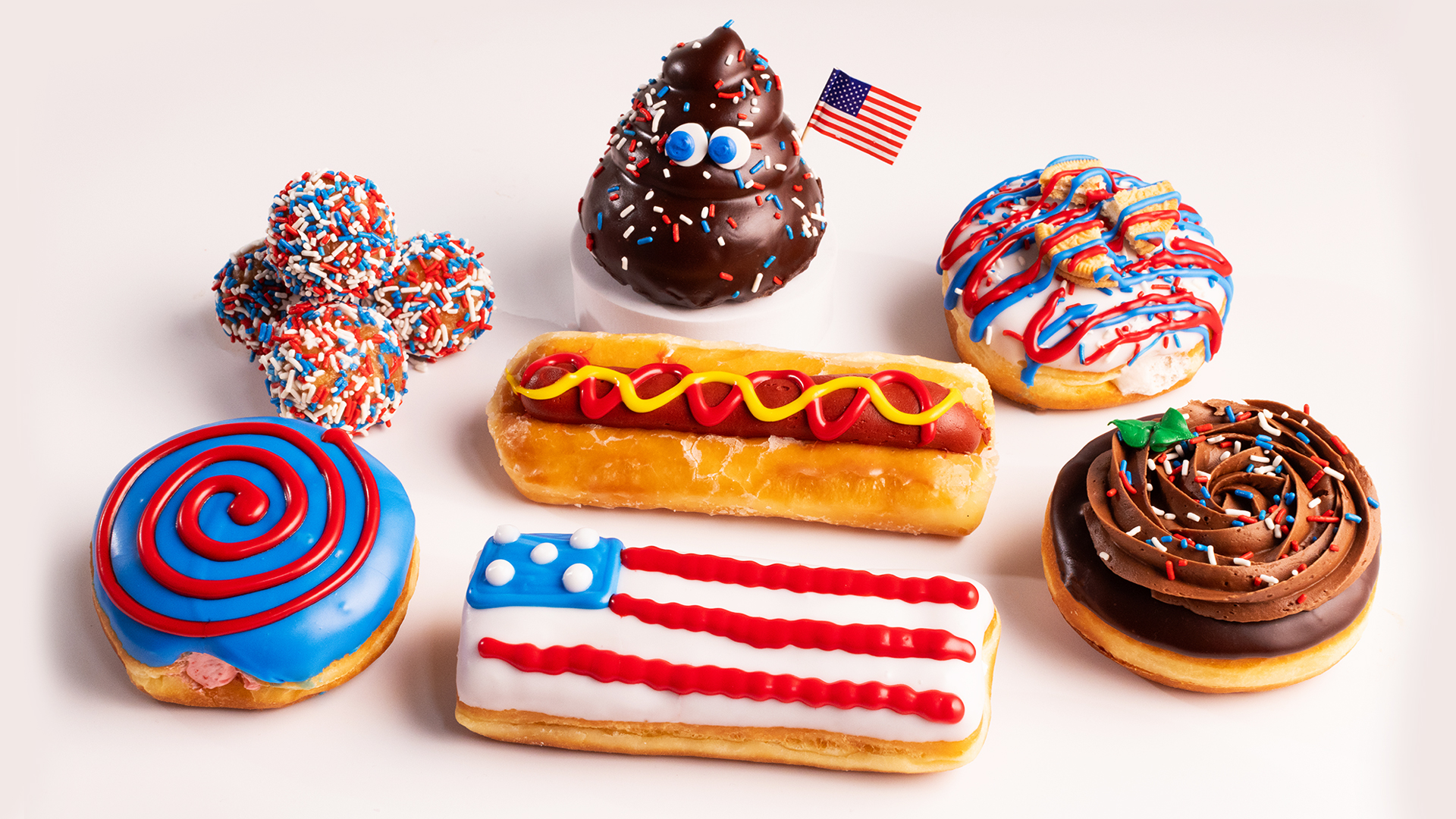 Beginning Friday, Sept. 1 through Monday, Sept. 4, Pinkbox Doughnuts® will sell a special line up of doughnuts to celebrate Labor Day. The patriotic line up includes:
Patriot Swirl — Blue frosted raised shell filled with cherry cheesecake and topped with a red swirl
American Flag — White frosted raised bar filled with white whip and topped with red, white, and blue flag décor
It's Ya Birthday — White frosted raised shell filled with birthday cake whip and topped with blonde Oreo and party décor
USA Vegan — Chocolate frosted raised vegan shell topped with a chocolate vegan buttercream rosette and stars and stripes sprinkles
American Pooh® — Chocolate cake topped with chocolate buttercream, covered with chocolate icing with stars and stripes sprinkles and an American Flag
Hot Dawg — Glazed raised bar topped with chocolate buttercream and drizzled with yellow and red frosting
American Pee Weez® — Glazed vanilla cake Pee Weez® with stars and stripes sprinkles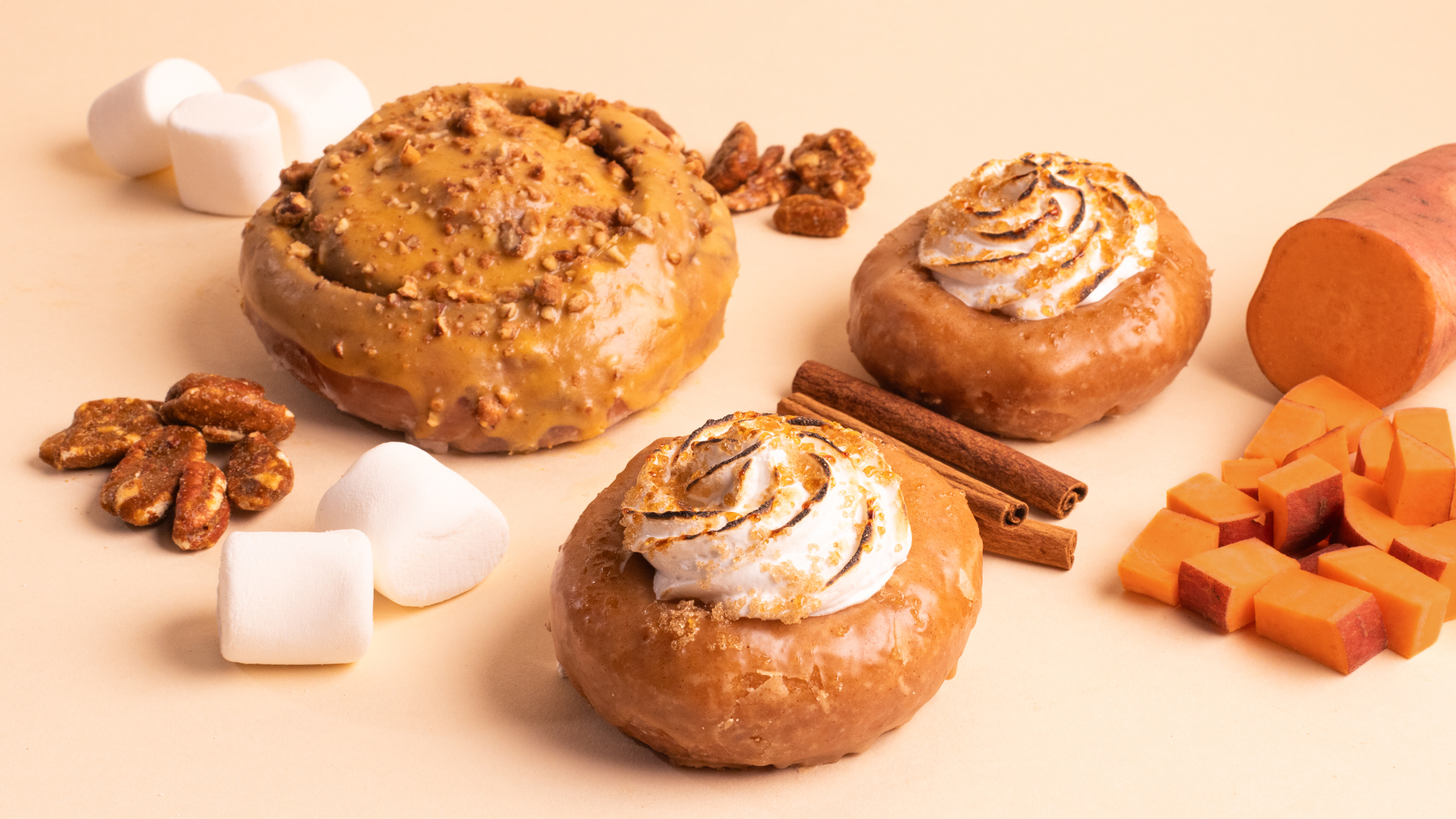 Also, beginning Sept. 1 through Oct. 1, Pinkbox Doughnuts will feature two specialty doughnuts to welcome the beginning of fall, both inspired by desserts synonymous with the cooler season. Pumpkin Roll is a Cinnamon roll covered in house made pumpkin icing and topped with pralines. Sweetie Pie is a Cinnamon glazed house made sweet potato cake topped with torched marshmallow and sprinkled with brown sugar.
For more information on Pinkbox Doughnuts, store locations, hours, and doughnut varieties, please visit www.pinkboxdoughnuts.com.
ABOUT PINKBOX DOUGHNUTS®
Awarded "All-Time Best Doughnuts" by Las Vegas Weekly, and "Best Doughnuts" in the Las Vegas Review-Journal "Best of Las Vegas" Awards, Pinkbox Doughnuts has eight locations across the metropolitan Las Vegas Valley as well as at the Nevada/California border in Primm, Nevada, the Nevada/Arizona border in Laughlin, Nevada, and in St. George, Utah. Established in 2012, Pinkbox Doughnuts offers a fun modern-day twist on the classic doughnut shop with a whimsical pink interior where more than 70 varieties of delicious doughnuts – each with their own creative design and personality – are sold 24 hours a day, 7 days a week at most locations. Perfect for social media memories, Pinkbox Doughnuts is expanding rapidly with plans to open several new stores. It also operates a doughnut food truck that travels to parties and special events. For more information, please visit www.pinkboxdoughnuts.com and follow on Instagram at @pinkboxdoughnuts, Facebook at Pinkbox Doughnuts, TikTok at Pinkbox Doughnuts, and Twitter at @pinkboxdoughnuts.
Summary
Article Name
Pinkbox Doughnuts® announces doughnut line up for Labor Day Weekend / Doughnut for the month of September
Description
Pinkbox Doughnuts® announces doughnut line up for Labor Day Weekend / Doughnut for the month of September