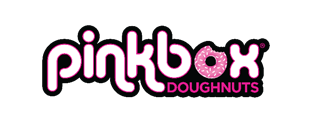 PINKBOX DOUGHNUTS® EASTERN LOCATION TO RELOCATE AND OPEN ON DECEMBER 18th
Guests can enjoy an upgraded experience, including the second drive-thru for Pinkbox Doughnuts at the relocated Eastern store, as well as the launch of Pinkbox Perks loyalty program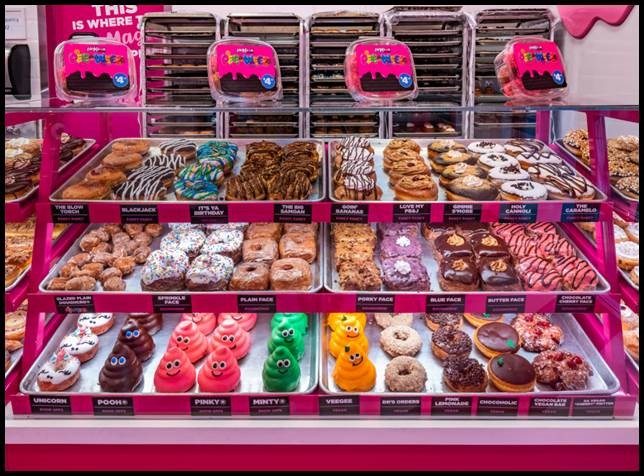 Following much anticipation and excitement, Pinkbox Doughnuts® will open the doors to its relocated Eastern store in Henderson on Saturday, December 18, debuting the newest, most creative and fun Pinkbox yet, including the second ever drive thru at 10510 S. Eastern Ave.
Taking place on Saturday, December 18 from 9 a.m. to 1 p.m., the grand opening party will feature festive activities perfect for guests of all ages, including an appearance by Pinkbox mascot Pinky, a live DJ, photo booth, airbrush tattoos, a doughnut eating contest and much more. Three doughnuts served that day will also have a pink ticket inside, giving three lucky customers the chance to win free doughnuts for a year. The first 100 guests will also receive a free, limited-edition Pinkbox T-shirt to take home.
"With every opening, or relocation in this case, we are thrilled to showcase the next step in the evolution of Pinkbox Doughnuts," said Judith Siegel, owner of Pinkbox Doughnuts. "It is our hope that when we open the doors on December 18, our guests love the new space as much as we do!"
Along with the opening of the relocated Eastern store, Pinkbox is excited to launch the Pinkbox Perks loyalty program. The new loyalty program from Pinkbox is the perfect way to be rewarded for enjoying doughnuts by earning three points for every dollar spent, with 400 points equaling $10 Pinkbox Dough. Customers can sign up through the Pinkbox Perks app, earning 30 points just for signing up, and can earn an additional 30 points for anyone they refer to the loyalty program. Perk holders will also receive a celebratory It's Ya Birthday doughnut on their birthday. Points can be redeemed at participating Pinkbox locations.
Dressed in the same eye-catching, whimsical design, the new location will extend its one-of-a-kind menu to the drive thru, bringing all 70+ rotating doughnuts to guests who prefer to receive their sweets window-side. The menu will feature classic selections, including apple fritters and old-fashioned doughnuts; over-the-top creations, including Unicorn, Pooh® and PINKY®, Pooh's pink counterpart and the familiar face of Pinkbox; DoughCro®, which are doughnuts made with a light and flaky croissant dough; Pinkbox's lineup of exclusive Raiders doughnuts; and other favorites, including the featured doughnut of the month.
There are currently seven Pinkbox Doughnuts locations in Las Vegas, including a kiosk at Siegel's Bagelmania and a kiosk at Allegiant Stadium. Select Pinkbox locations are open 24 hours daily.
Job opportunities are still available, with open positions including general managers, assistant managers, crew leaders, delivery drivers, baristas, doughnut makers, decorators, kitchen help and cashiers. Locals interested in joining the Pinkbox team may apply at [email protected]. For more information, visit www.pinkboxdoughnuts.com.
###
ABOUT PINKBOX DOUGHNUTS
Awarded "All-Time Best Doughnuts" in 2020 by Las Vegas Weekly, and "Best Doughnuts" in the 2017, 2018 and 2020 Las Vegas Review-Journal "Best of Las Vegas" Awards, Pinkbox Doughnuts® offers four brick and mortar locations in Las Vegas plus a pop-up at Siegel's Bagelmania, a kiosk in Allegiant Stadium, a location in Primm, NV, and a food truck that will make it easier than ever to satisfy cravings. Established in 2012, Pinkbox is currently located at 3990 E. Sunset Rd.; 10510 S. Eastern Ave. in Henderson, Nevada; 7531 W. Lake Mead Blvd. in the north Summerlin area; 9435 W. Tropicana Ave; in Allegiant Stadium; in Siegel's Bagelamania located at 252 Convention Center Dr.; and 31881 S Las Vegas Blvd in Primm, NV. For more information, please visit www.pinkboxdoughnuts.com and follow us on Instagram at @pinkboxdoughnuts, Facebook at Pinkbox Doughnuts and Twitter at @pinkboxdoughnuts.
Summary
Article Name
Pinkbox Doughnuts Eastern Location to Relocate and Open on December 18th
Description
Pinkbox Doughnuts Eastern Location to Relocate and Open on December 18th