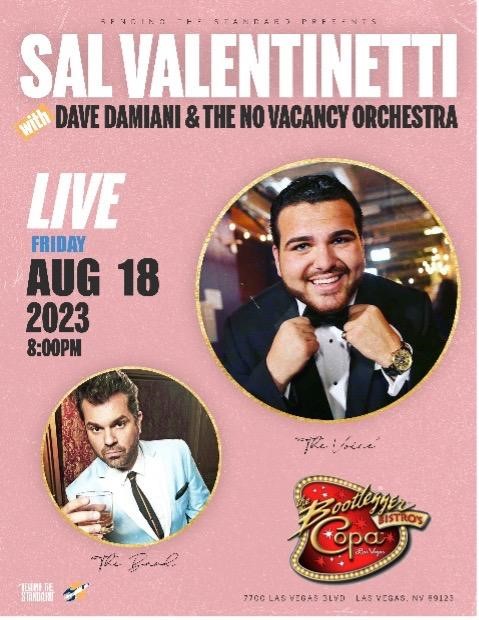 AMERICA'S GOT TALENT'S SAL "THE VOICE" VALENTINETTI JOINS DAVE DAMIANI & THE NO VACANCY ORCHESTRA IN LAS VEGAS
The Performers Will Take the Stage at The Copa Room at the Bootlegger Bistro Italian Restaurant
Sal "The Voice" Valentinetti, Heidi Klum's Golden Buzzer on America's Got Talent season 11, will be wowing the audience once again with his flawless vocals at a performance to remember in Las Vegas on Friday, August 18 at 8 p.m. The special show will see the charismatic Valentinetti return after a sold out show last April to once again join producer and performer Dave Damiani and The No Vacancy Orchestra for an evening of Sinatra-inspired tunes and songs from the Great American Songbook.
Valentinetti took "America's Got Talent" by storm with his audition of Sinatra's "My Way" which went viral reaching more than 100 million views on YouTube. As a top five finalist, he achieved massive success from the show and now tours the country selling out venues of all sizes – from intimate clubs like The Copa Room to Madison Square Garden.
Sal's latest album, Little Valentine, was produced by Damiani and considered for a Grammy. Since then, Sal has performed all over the country with Dave Damiani & The No Vacancy Orchestra. Damiani has produced music and performed with George Benson, Bobby Rydell, Joe Piscopo, Renee Olstead, AGT Winner Landau Murphy Jr, Haley Reinhart and many more.
Tickets start at $25 and can be purchased at https://www.eventbrite.com/. Doors open at 7pm and the show begins at 8pm. The Copa Room at The Bootlegger is located at 7700 South Las Vegas Boulevard Suite 14 Las Vegas, NV 89123.
Summary
Article Name
AMERICA'S GOT TALENT'S SAL "THE VOICE" VALENTINETTI JOINS DAVE DAMIANI & THE NO VACANCY ORCHESTRA IN LAS VEGAS
Description
AMERICA'S GOT TALENT'S SAL "THE VOICE" VALENTINETTI JOINS DAVE DAMIANI & THE NO VACANCY ORCHESTRA IN LAS VEGAS