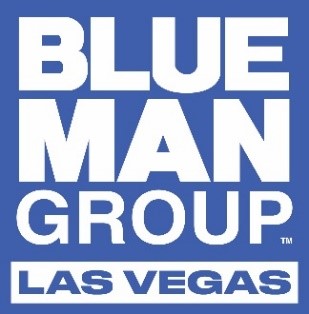 BLUE MAN GROUP RINGS IN 2024 WITH TECHNOLOGY UPDATES AND REFRESHED VISUALS
Additional holiday performances, Black Friday and Cyber Monday deals available to purchase now!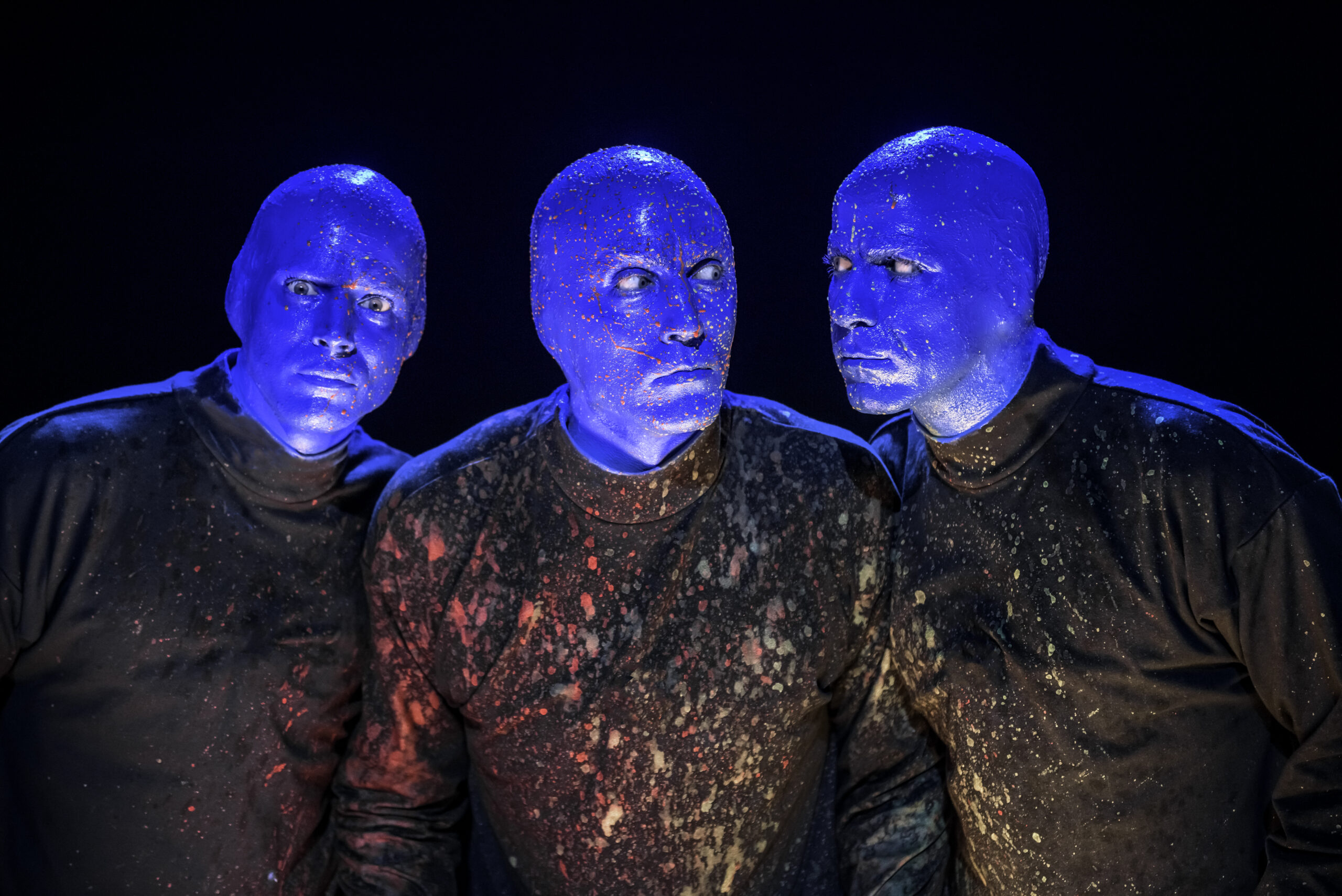 Blue Man Group, the iconic show known for its amalgamation of art, technology and music continues to evolve and introduce refreshed visuals inviting audiences to come back and reexperience the high-energy production. Beginning this month, the larger-than-life production has implemented state-of-the-art screens incorporating the latest LED display technology as well as new visionary video content captured by renowned design agency PRETTY DAMN SWEET.
Additionally, Blue Man Group is offering up to 50% off select seats and showtimes for performances from Nov. 14, 2023, through Dec. 19, 2024. Specially priced tickets are available for purchase now through Nov. 28, 2023, and are subject to availability and block-out dates. For more information and show availability, please visit https://www.blueman.com/las-vegas/offers/black-friday.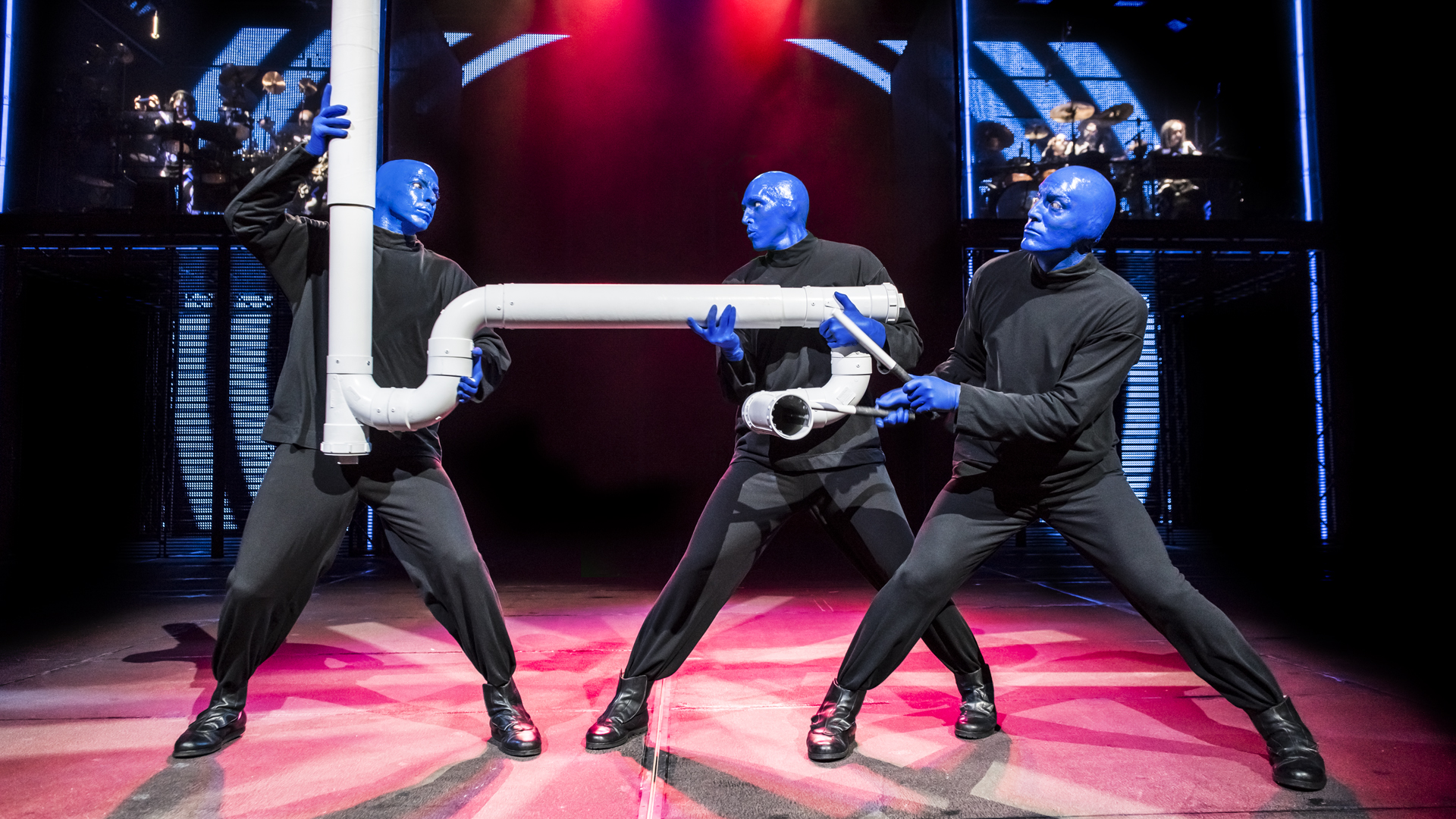 The hilariously inquisitive trio is celebrating the upcoming holiday season with additional performances through the rest of the year. Alongside the release of their new holiday EP "Overjoy to the World" Blue Man Group is sprinkling in special festive touches to shows in December that are sure to spread even more joy to audiences. For the updated schedule for November and December of 2023 including special New Years' Eve performances, see below:
ADDITIONAL PERFORMANCES
2 p.m. performance:

Nov. 20-23, 25

Dec. 18-22

2 p.m. and 5 p.m. performances:

Nov. 16-18

5 p.m. and 10 p.m. performances:

Dec. 16-17

1 p.m., 4 p.m., 7 p.m. and 10 p.m. performances:

Nov. 24

Dec. 23, 26, 30

4 p.m., 7 p.m. and 10 p.m. performances:

Dec. 24-25, 27-29

1 p.m., 4 p.m. and 7 p.m. performances:

Dec. 31

ADDITIONAL DARK DAY
Nov. 29
Blue Man Group performs seven days a week at 5 p.m. and 8 p.m. inside Luxor Hotel and Casino. For more information or to purchase tickets, please visit the Blue Man Group box office, any MGM Resorts International ticketing outlet, www.blueman.com or call 1.800.blueman.
ABOUT BLUE MAN GROUP
Blue Man Group is a global entertainment phenomenon, known for its award-winning theatrical productions, iconic characters and multiple creative explorations. Blue Man Group performances are euphoric celebrations of human connection through art, music, comedy and non-verbal communication. Since debuting at New York's Astor Place Theatre in 1991, the live show has expanded to additional domestic residencies in Boston, Chicago, and Las Vegas, an international residency in Berlin, and multiple North American and World tours, reaching more than 50 million people worldwide. Blue Man Group is universally appealing to a broad range of age groups and cultural backgrounds, and continually injected with new music, fresh stories, custom instruments and sensory stimulating graphics. Blue Man Group is owned and operated by Cirque du Soleil Entertainment Group. For more information, please visit Blueman.com.
ABOUT PRETTY DAMN SWEET
Founded in 2010 by Stephen Gifford and Rick Sebeck, Pretty Damn Sweet has worked with some of the most creative and influential brands across the globe, from Apple to Xfinity. Serving as storytellers who immerse audiences in virtual worlds, Pretty Damn Sweet seeks to evoke emotions and create memorable experiences. The company's expertise exists at the intersection of technology, design and production. Other brands that have helped shape Pretty Damn Sweet's brand through strong collaborations include Adobe, Disney, Intel, IBM, Pepsi, Hasbro, Warner Media, TBS, TNT, ESPN, Johnson & Johnson, NFL, NHL, MLB and Beachbody. More information is available at www.prettydamnsweet.com.
Summary
Article Name
BLUE MAN GROUP RINGS IN 2024 WITH TECHNOLOGY UPDATES AND REFRESHED VISUALS
Description
BLUE MAN GROUP RINGS IN 2024 WITH TECHNOLOGY UPDATES AND REFRESHED VISUALS