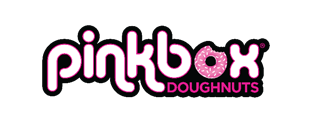 Pinkbox Doughnuts® Thanksgiving treats in shops now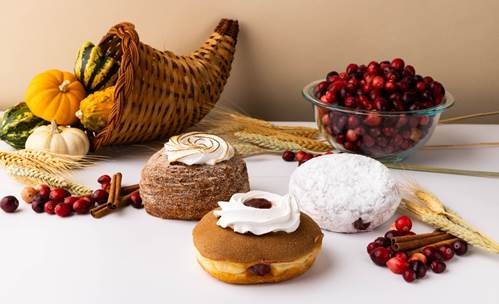 Thanksgiving is next week, and Pinkbox Doughnuts® debuted their Thanksgiving doughnut lineup this week. They are available for preorder online and in shops through Nov. 23:
Maple Harvest – Maple frosted vanilla cake topped with Thanksgiving sprinkles
Pumpkin Pie – Frosted raised shell filled with pumpkin buttercream and decorated with chocolate buttercream and white whip
Gobble Gobble – Maple frosted raised ring with a Nutter Butter cookie and candy corn
It's Ya Birthday – White frosted raised shell filled with birthday cake whip and topped with blonde Oreo® and party décor
Turkey Pooh – Chocolate cake topped with chocolate buttercream, covered with chocolate icing and candy décor and dressed up like a turkey
Thanksgiving Vegan – Chocolate frosted raised vegan shell filled with pumpkin vegan buttercream and topped with Thanksgiving sprinkles
Thanksgiving Pee Weez – Glazed vanilla cake Pee Weez with Thanksgiving sprinkles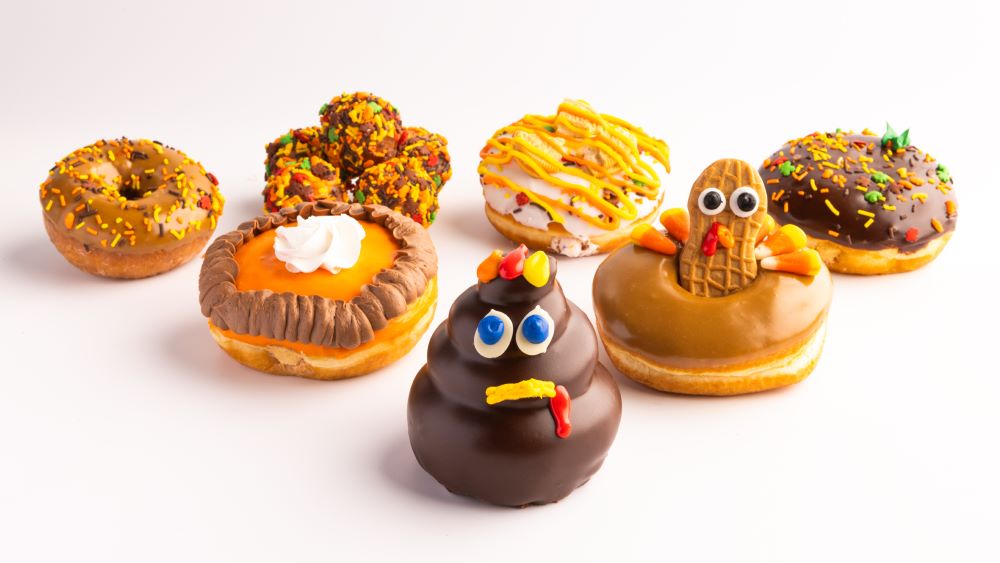 The Thanksgiving doughnuts compliment the trio of November Doughnuts of the Month featuring popular autumn flavors:
The Mayflower – Cinnamon sugar croissant doughnut filled with cranberry filling and topped with torched marshmallow
Gobble-licious – Maple frosted shell filled with cranberry filling and topped with cinnamon sugar, white whip, and a cranberry dollop
Cranberry Cutie – Raised shell rolled in powdered sugar and filled with cranberry filling
For more information on Pinkbox Doughnuts, shop locations, hours, and doughnut varieties, please visit www.pinkboxdoughnuts.com.
ABOUT PINKBOX DOUGHNUTS®
Awarded "All-Time Best Doughnuts" by Las Vegas Weekly, and "Best Doughnuts" in the Las Vegas Review-Journal "Best of Las Vegas" Awards for several consecutive years, Pinkbox Doughnuts has eight locations across the metropolitan Las Vegas Valley as well as at the Nevada/California border in Primm, Nevada, the Nevada/Arizona border in Laughlin, Nevada, and in St. George, Utah. Established in 2012, Pinkbox Doughnuts offers a fun modern-day twist on the classic doughnut shop with a whimsical pink interior where more than 70 varieties of delicious doughnuts – each with their own creative design and personality including one-of-a-kind creations like – the trademarked Pooh®, Peace® and Shaka® – are sold 24 hours a day, 7 days a week at select locations. Perfect for social media memories, Pinkbox Doughnuts is expanding rapidly with plans to open several new shops. It also operates a doughnut food truck that travels to parties and special events. For more information, please visit www.pinkboxdoughnuts.com and follow on Instagram at @pinkboxdoughnuts, Facebook at Pinkbox Doughnuts, TikTok at Pinkbox Doughnuts, and Twitter at @pinkboxdoughnuts.
Summary
Article Name
Pinkbox Doughnuts® Thanksgiving treats in shops now
Description
Pinkbox Doughnuts® Thanksgiving treats in shops now