IT'S LIVE MUSIC MADNESS AT STONEY'S ROCKIN' COUNTRY THIS MARCH
WHAT: Enjoy live music from some of country's hottest rising stars at Stoney's Rockin' Country in March.
Hop on the mechanical bull or take a spin line dancing! Stoney's has you covered with free line dance lessons Thursdays through Saturdays at 7:30 p.m. and 8:30 p.m. Visit https://stoneysrockincountry.com/dance-lessons/ for details.
WHERE: Stoney's Rockin' Country
6611 Las Vegas Blvd. So., Unit 160 at Town Square
WHEN: Fri., Mar. 3 Tim Dugger
Fri., Mar. 10 Chancey Williams
Fri., Mar. 17 Jackson Michelson
Sat., Mar. 18 Stoney's Bull Sessions with Hannah Ellis & 95.5 The Bull
Fri., Mar. 24 Hailey Whitters
Fri., Mar. 31 Tyler Rich
TICKETS: Advance tickets start at just $10 and are on sale now at https://www.etix.com/ticket/v/13160/stoneys-rockincountry. Shows are open to 18+ and doors open at 7 p.m.
ABOUT TIM DUGGER
Curb Records recording artist, Country Music singer/songwriter, and Alabama-native Tim Dugger grew up on NASCAR racing, Gospel singing, and classic Country music. He developed a genuine love for songwriting and storytelling during summers spent at his local music store jamming with bluegrass pickers. After being introduced to former NASCAR driver and team owner Richard Childress, Dugger was off to the races, playing his original songs at nearly every major track in America. Along the way, he cultivated an unapologetic artistic identity, rooted in the music of his childhood idols like Merle Haggard, Vern Gosdin, Hank Williams, and Alan Jackson. Tim made his Grand Ole Opry Debut in December of 2021. Dugger's latest release, "Heart Of A Small Town," is available now.
ABOUT CHANCEY WILLIAMS
Saddle Bronc athlete turned neo-traditional country music sensation, Chancey Williams, has gone from competing on horseback to performing on center stage.
As one of only two artists (Chris LeDoux) to both compete in the rodeo and perform on the main stage at Cheyenne Frontier Days and the only singer/songwriter to be endorsed by CINCH®, Williams is the next authentic cowboy of country music.
Growing up on a ranch in the northeastern corner of Wyoming, Williams is one of the proud few hailing from Moorcroft, WY – a town so small it doesn't need stoplights. Rodeo, wrestling, and academic talents took him first to Casper College and then to the University of Wyoming. Chancey earned several degrees, including a Master's in Public Administration, but it was music and the camaraderie of the road that continues to take him all over the United States.
2021 brought a sense of "near normalcy" back on the road in many areas of the country. Chancey finished out last year with a tour sponsored by CINCH, a series of dates with Toby Keith, a sold-out show with Cody Johnson at the Ryman Auditorium, and an especially memorable concert as direct support for one of his idols, Alan Jackson. The National Finals Rodeo returned to Las Vegas and Chancey headlined the main showroom at South Point, "ground zero" at the most important rodeo event in the world.
ABOUT JACKSON MICHELSON
Raised in Corvallis, Oregon, Jackson Michelson kicked off his country career on the West Coast, carving out a sound that blended the rootsy twang of the American South with the sunny, feel-good spirit of the Pacific Coast. Nashville — the official capital of country music — lay 2,300 miles to the southeast, but Michelson focused on his home turf first, building an audience of West Coast fans who were drawn to his high-energy shows and relatable songwriting. By the time he did move to Nashville, he'd already spent years on the road, growing his fan base show-by-show and earning a record contract with Curb Records in the process.
It's been a wild ride for the man who grew up in the "Grass Seed Capital of the World," listening to the diverse sounds of his mother's favorite country songs and his dad's soul records.
"Corvallis is a small college town," he says of his Oregon home, whose farms supply much of the town's teenage population with work during the warmer months. "You go to school, and in the summer, you work on the farm starting at age 12. You either bale hay or drive the combine. That's what most kids do, every single year."
Once his older brother landed a record deal as a Christian artist, though, Michelson found himself with a different sort of summertime gig: selling t-shirts and CDs at his sibling's gigs. Touring the country at a young age lit a fire inside Michelson, who began playing in bands back at home. He started writing original music, too, drawing on his own experiences to create songs that balanced high-energy hooks with good-natured, real-world storylines. It was music shaped by what he listened to and where he came from.
Songs like "The Good Life," which has since become a popular track on SiriusXM radio, helped spread Michelson's music to new fans across the country. Most of the grunt work, though, was done on the road, where Michelson delivered more than 100 shows per year. He opened for artists like Lee Brice, Blake Shelton, and Frankie Ballard, earning new fans along the way. To him, those fans were everything. They were his muse, his support system, his champions. Crowd interaction became a crucial part of every Jackson Michelson show, and he always ended each gig the same way: by meeting fans, shaking hands, and becoming friends with those who enjoyed his music.
Now, with a record deal under his belt, Michelson is prepping for the next phase of his career. There are new shows to play, new songs to be written and new opportunities to explore. But he's still the boy from Corvallis, happy to sing about "The Good Life" — a life he's built himself, show by show and song by song — to an audience that continues to grow.
ABOUT HANNAH ELLIS
Curb Records recording artist and country music singer/songwriter Hannah Ellis' journey – and world – is one all can feel at home in. The Campbellsville, Kentucky-native's voice – a mix of favorite flannel, sparkling pink wine and welcome – is the friend we always wanted. Whether pouring from a car radio or your phone, the act named to Rolling Stone's Country's "Artist To Watch" list reminds you big leaps often come as a series of small steps when no one is looking. Having paid for her University of Kentucky degree with her full-ride scholarship, she – with the full support of her family – started chasing her dreams. Like so many, that meant a self-financed EP, and moving to Nashville to begin the endless rounds of writers nights, meetings, making friends, and trying to find your way. Hannah paid her dues, kept her focus and kept moving towards something she was sure she felt and knew was right. The fresh-faced songwriter, who has over 27 million career streams, has since written songs recorded by artists, and been featured as a vocalist on songs, spanning multiple genres, including: Russell Dickerson, Carly Pearce, FOR KING + COUNTRY, Emily Weisband, Cassadee Pope, Filmore, and Sidewalk Prophets. The magnetic artist, who has appeared on the Grand Ole Opry multiple times since making her debut, has toured with Carly Pearce, Gavin DeGraw, Dwight Yoakam, Devin Dawson, and many others, and has toured as part of the CMT "Next Women of Country" Tour. Ellis was invited back by her college alma mater to be featured in a national television advertising campaign about pursuing and achieving your dreams. Hannah's "Country Can" is available now.
ABOUT HAILEY WHITTERS
The idea of "home" courses throughout country music. But few songwriters can place you in the center of the town square, on a stool at the corner bar, or in a chair at the kitchen table quite like Hailey Whitters.
On her 2020 breakthrough album The Dream, the singer-songwriter wrote about escaping her hometown of Shueyville, Iowa, to pursue stardom in Nashville. It was a fantasy record at first, full of far-off plans, hopes, and dreams. But it soon became Hailey's reality — she signed a label deal with Big Loud/Songs & Daughters, went on tour with Luke Combs and Midland, and made her first of many appearances on the Grand Ole Opry.
The Dream and its deluxe reissue Living the Dream earned critical acclaim from The Washington Post, Rolling Stone, Garden & Gun, and Stereogum, and Hailey racked up 75 million global artist streams. She also became a Grammy-nominated songwriter for "A Beautiful Noise," her collaboration with Brandi Carlile, Alicia Keys, and Brandy Clark.
In the midst of that whirlwind, Hailey found herself reconnecting with her Midwestern roots. Shueyville was always in the back of her mind and the memories she made there — getting her first kiss; partying in the cornfields; gathering for Sunday supper — started to shape her writing. Over the past two years, she channeled those memories into her new album, Raised.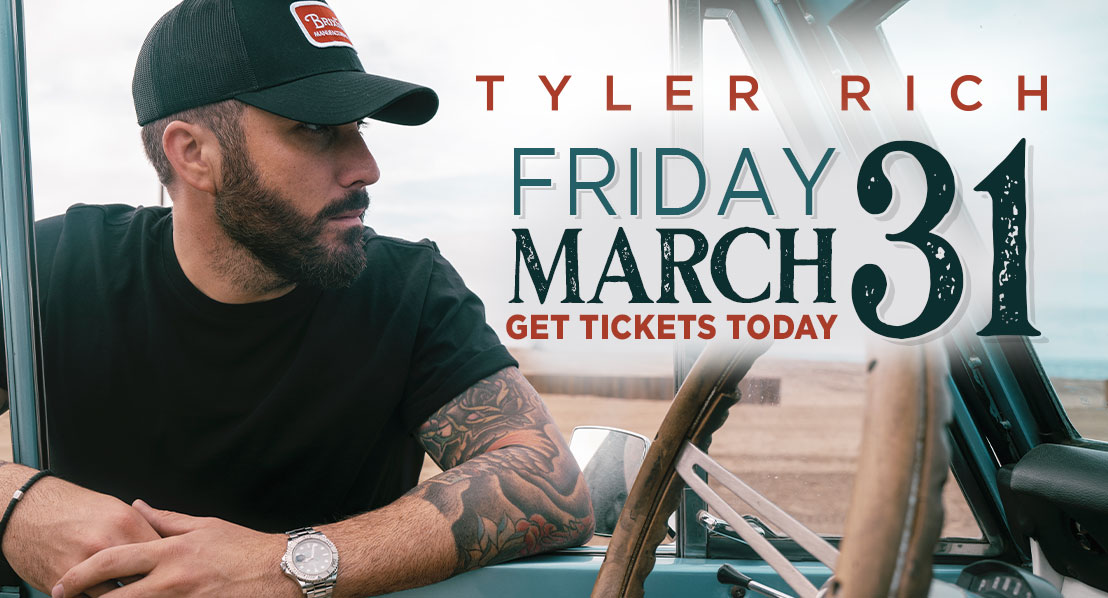 ABOUT TYLER RICH
Northern California-raised, Nashville-rooted Tyler Rich found his love of music gathered around a Christmas tree alongside family singing holiday classics and Creedence Clearwater Revival. Fast forward to graduating college with a degree in Economics, Tyler moved to LA to pursue a different game of numbers–music–exploring various genres with songwriting and bands before taking the leap as a solo artist. Since, he has been named a 2018 CMT Listen Up artist, 2019 Pandora Artist and Rolling Stone touted him as "the newest member of country music's radio-minded incoming class, with a homecoming king's swagger and a valedictorian's songwriting smarts. " Amassing over 394.4M+ total global streams with his debut album TWO THOUSAND MILES (The Valory Music Co.), featuring GOLD-certified "The Difference," plus subsequent releases "Better Than You're Used To" and The Cadillac Three's Jaren Johnston-produced "A Little Bit of You." With "Thinkin' We're In Love," an English and French duet with one of Canada's most successful bilingual singer-songwriters, Marie-Mai, Tyler has announced a headline tour of the same name. Tickets are on sale now for his headline THINKIN' WE'RE IN LOVE TOUR. His music embodies the feelings all people have in common –the need for acceptance, devotion, and a place to call their own–and that empathetic spirit extends to animals too. With Rich Rescues, Tyler visits local shelters while out on the road to raise awareness for pet adoption.
ABOUT STONEY'S ROCKIN' COUNTRY
The award-winning, world famous Stoney's Rockin' Country is Las Vegas' premiere destination for locals and tourists who are looking for a boot stomping good ole time with line dancing, mechanical bull riding, beer pong, pool tables, and more. Located at Town Square, Stoney's Rockin' Country is a 19,000 square foot high-energy nightclub that features a 2,000 square foot dance floor and 570 square foot stage for dancing and performances, along with a state-of-the-art sound system, live bands, and the industry's leading DJs. Open Thursday through Saturday, Stoney's Rockin' Country offers special promotions including the World-Famous Ladies Night on Thursdays where ladies drink for just $2 and Fresh Country Fridays with live music from the latest and greatest in country music. Doors open at 7 p.m. and line-dancing lessons begin at 7:30 p.m. For more information, call (702) 435-2855 or go to stoneysrockincountry.com. Find Stoney's Rockin' Country on Facebook, Twitter @StoneysLV, and Instagram @stoneysrockincountry.
Summary
Article Name
It's live music madness this March at Stoney's Rockin' Country
Description
It's live music madness this March at Stoney's Rockin' Country