LIFE IS BEAUTIFUL AND MEOW WOLF REVEAL DETAILS FOR PARTY IN THE SUBORBS FESTIVAL TAKEOVER AT THE WESTERN HOTEL, SEPT. 22-24.
The beloved arts and entertainment group will once again transform a downtown Las Vegas venue into an immersive art and performance space with the all-new Party in the SubOrbs experience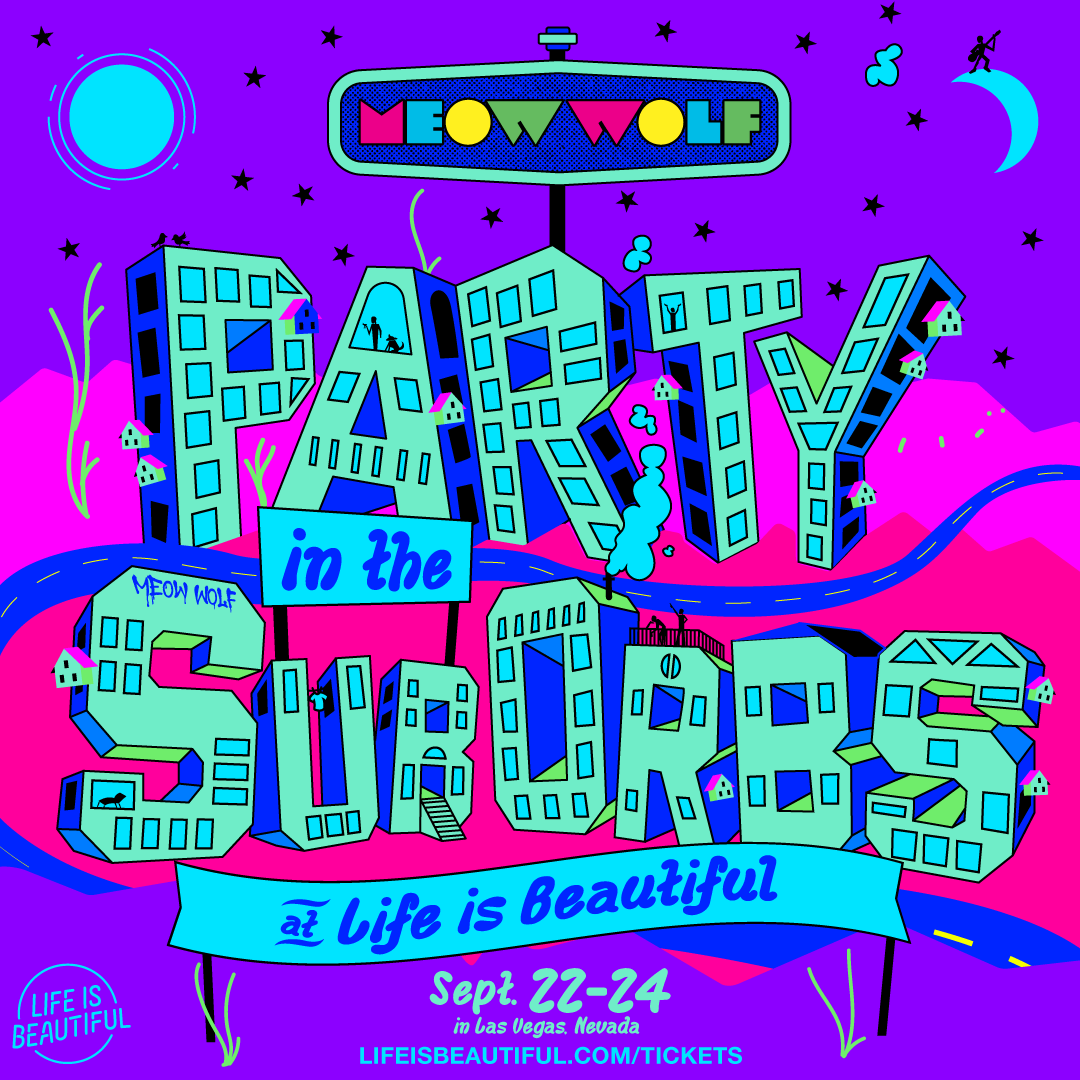 Today, Life is Beautiful announced additional details about the exciting return of fan-favorite arts and entertainment organization, Meow Wolf, who will transform the Western Hotel into an immersive Party in the SubOrbs experience. Delivering the quirky and dreamlike atmosphere Meow Wolf is known for, the all-new space will offer art-lovers a chance to dive into another dimension of visual and sonic curiosity throughout the festival's 10th anniversary celebration, taking place September 22-24. Tickets for Life is Beautiful's 10th anniversary are on sale now here.
Meow Wolf's Party in the SubOrbs is a twinkling, neon block party in the Meow Wolf multiverse, featuring a rotating roster of lively appearances and performances along with specially crafted beverage options. This mini city of wonder will offer fans a visually stunning space to beat the heat and enjoy a drink as they watch the neighborhood antics unfold. The full list of installation artists and performers set to appear at this can't-miss community shindig includes:
INSTALLATION ARTISTS
Joel Spencer (He/Him): Spencer is a Las Vegas based Interdisciplinary Artist and founder of Art Department Vegas. Spencer creates art that embodies the whimsical and absurd through found objects.
Nova May (She/Her): May is a Las Vegas based Sculptor, Filmmaker, and founder of Art Department Vegas. She creates interactive sculptures and temporary public work using a variety of materials from paper to metal to textiles.
Alexander Sky (He/Him): Sky is a Visual Artist based in Las Vegas that explores the intersection of spirituality and the human body. He is influenced directly by his Aztec heritage and experience in modern Street Art, portraying a crossroads between the ancient and the new.
Ailene Pasco (She/Her): Pasco is a multidisciplinary Artist based in Las Vegas that works primarily in fiber art, textile art, sculpture and film photography. Pasco is a passionate advocate for public art and uses her pieces to raise awareness of issues such as conservation of nature and positivism.
Nishan Ganimian (She/They/Them/Theirs): Las Vegas based Interdisciplinary Artist and storyteller who explores narrative through clowning and puppetry. She practices world building for her characters and puppets through installations of fabric, found objects and ceramics.
PERFORMERS
Molodi: Pairing extreme body percussion with educational outreach, Molodi is more than a performance troupe – they are a community of energetic leaders, educators, and seasoned entertainers. Molodi pushes the boundaries of stepping through its unique blend of body percussion, gumboots, beatbox, poetry, hip hop dance, immersive storytelling, and robust personalities that bring to life a high-energy experience. In addition to performing on the world stage, Molodi holds their home of Las Vegas close to heart, performing locally and teaching through their arts education program, Molodi Unplugged. Working with organizations such as Cirque du Soleil, The Smith Center, Broadway In The Hood and Project 150, Molodi serves the community and continues to enrich lives by inspiring the artist in each of us!
The Great Bingo Revival: The Great Bingo Revival is a rhythm and funk soul explosion captivating festivals, corporate events and private parties across North America! Reminiscent of a 1970's game show, The Great Bingo Revival harkens back to an era of wide bottom pants, big hair and funky dance moves. We offer old school bingo with a new school twist!
Majestic Repertory Theatre: Majestic Repertory Theatre was established in 2016 as a downtown performance space where local artists could continue developing their craft in a professional setting. Majestic's innovations in immersive and interactive performance has led to collaboration on large scale projects for the musician Usher, the producers of Sleep No More, and brands including Jack Daniels and Remy Martin. Their creative efforts received the attention of Meow Wolf, resulting in being one of only two artistic organizations in Las Vegas to receive a DIY Grant from the Santa Fe-based collective.
SCHEDULE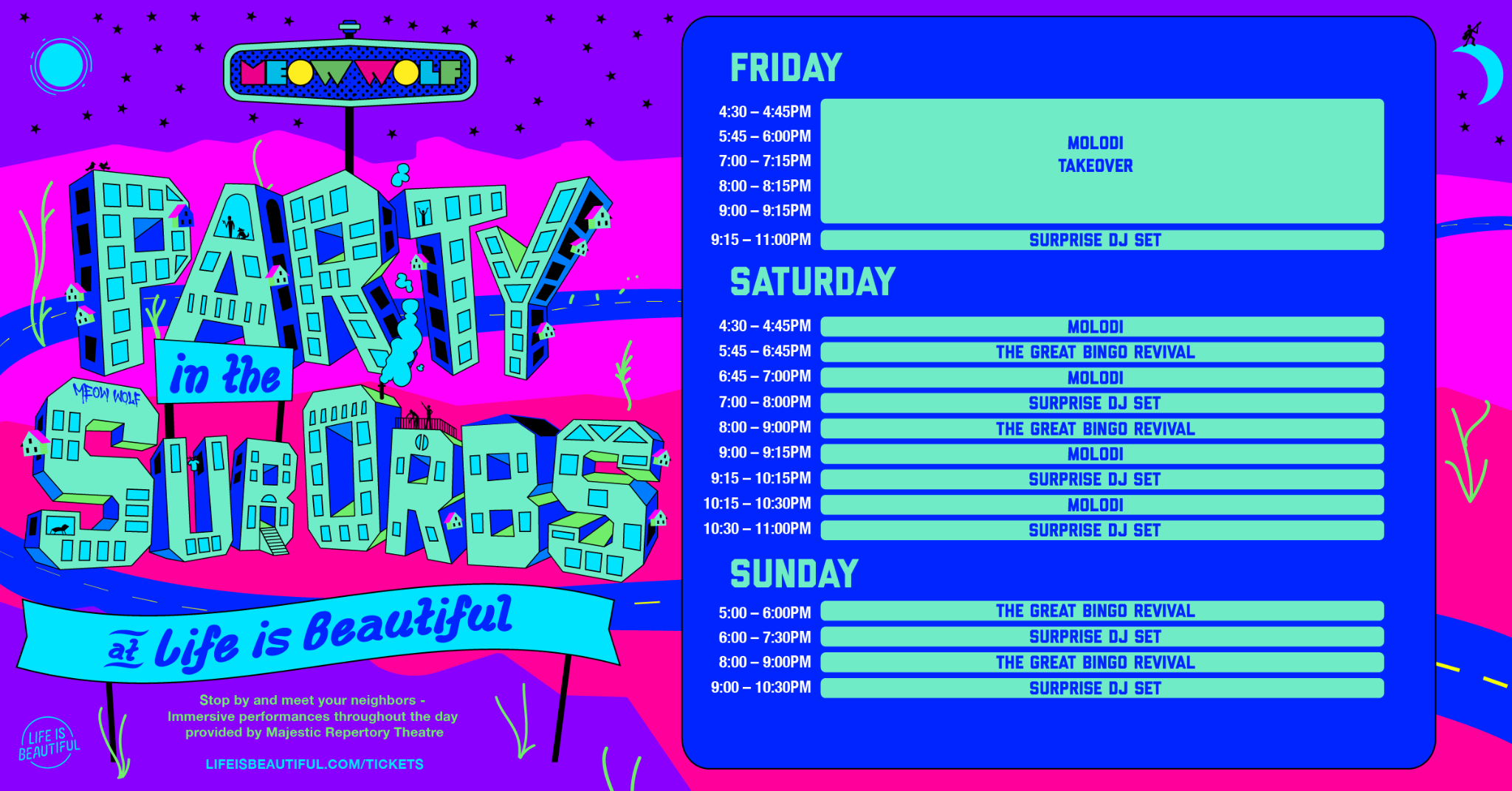 FRIDAY, SEPTEMBER 22
4:30-9:15 PM MOLODI TAKEOVER
9:15-11:00 PM SURPRISE DJ SET
SATURDAY, SEPTEMBER 23
4:30-4:45 PM MOLODI
5:45-6:45 PM THE GREAT BINGO REVIVAL
6:45-7:00 PM MOLODI
7:00-8:00 PM SURPRISE DJ SET
8:00-9:00 PM THE GREAT BINGO REVIVAL
9:00-9:15 PM MOLODI
9:15-10:15 PM SURPRISE DJ SET
10:15-10:30 PM MOLODI
10:30-11:00 PM SURPRISE DJ SET
SUNDAY, SEPTEMBER 24
5:00-6:00 PM THE GREAT BINGO REVIVAL
6:00-7:30 PM SURPRISE DJ SET
8:00-9:00 PM THE GREAT BINGO REVIVAL
9:00-10:30 PM SURPRISE DJ SET
Party in the SubOrbs marks Meow Wolf's triumphant return to the festival's stomping grounds, having made several past appearances at Life is Beautiful including their 2015 participation in the collaborative takeover of the Art Motel, a 13,000-square-foot vacant motel transformed into a multidimensional, interactive art exhibit; their 2017 takeover of the same space, featuring art exclusively curated and created by the Meow Wolf team; and the unexpected appearance of Omega Mart store employees at the 2021 festival.
Tickets for Life is Beautiful's 10th anniversary celebration are now on sale. Starting at $395 for 3-day GA passes or $195 for 1-Day passes, fans can purchase and explore other ticket options here. To buy tickets or to find out more information about Life is Beautiful, visit www.lifeisbeautiful.com or follow along on social media on Facebook, Instagram, Twitter, and YouTube.
About Life is Beautiful
Celebrating 10 years in September 2023, Life is Beautiful is Las Vegas' premier music and arts festival. Attracting more than 1 million fans to Downtown Las Vegas over the festival's lifespan, the annual 3-day event delivers an eclectic range of immersive experiences including music sets from chart-topping performers, eye-catching art installations, culinary showcases, and more. Life is Beautiful was born as part of the major revitalization of Downtown Las Vegas in 2013 and has helped transform the surrounding DTLV community into a bustling destination while contributing over $400M of economic impact and cultural capital to the area. What started as an event has become something more: a symbol of connection, joy and creativity.
About Meow Wolf
Meow Wolf is a Santa Fe-based arts and entertainment company that creates immersive, interactive experiences that have transported participants of all ages into fantastic realms of story and exploration. Recognized in Fast Company's World's 50 Most Innovative Companies (2022 and 2020) and USA Today's Top 10 Best Immersive Art Experiences (2022), Meow Wolf experiences engage millions of curious seekers through discovery and play. The company's first exhibition in Santa Fe (2016) is the THEA Award-winning, international sensation, House Of Eternal Return, which reveals a multidimensional mystery house with secret passages, portals to magical worlds, and surreal, mesmerizing art exhibits. Omega Mart, at AREA15 in Las Vegas (2021) is an eye-popping smorgasbord of art in a dreamlike grocery store where other worlds gleam just beyond the frozen aisle. Denver's Convergence Station (2021) is a maximalist grandiosity of architecture, a quantum transit station that connects to four alien worlds forged together in a post-singularity moment of amnesia. Meow Wolf opened The Real Unreal in the Dallas-Fort Worth metroplex in July 2023 and the next location will open in Houston in 2024. Meow Wolf is proud to be the first certified B-Corporation in the themed entertainment industry.
Summary
Article Name
LIFE IS BEAUTIFUL AND MEOW WOLF REVEAL DETAILS FOR PARTY IN THE SUBORBS FESTIVAL TAKE OVER AT THE WESTERN HOTEL, SEPT. 22-24
Description
LIFE IS BEAUTIFUL AND MEOW WOLF REVEAL DETAILS FOR PARTY IN THE SUBORBS FESTIVAL TAKE OVER AT THE WESTERN HOTEL, SEPT. 22-24