LIFE IS BEAUTIFUL ANNOUNCES 2023 CULINARY LINEUP
Festival's eclectic food offerings feature Las Vegas' most prominent chefs, mixologists, and local culinary curators
Celebrating 10 years of showcasing music, art, and food in Downtown Las Vegas, Life is Beautiful has announced its full Culinary Lineup for the 2023 festival. This year's milestone event will feature creative culinary experts, mixologists, and talented chefs from across the city, as well as a specially curated 2023 beverage program, continuing the festival's mission to highlight the diversity of Las Vegas' unparalleled food and beverage scene.
Life is Beautiful's Culinary program will feature food created by 50+ chefs, bartenders, restaurants, food trucks, and more including José Andrés' eateries China Poblano and Jaleo, Chef Sam Marvin from Echo & Rig, Chef Gina Marinelli's La Strega and Harlo Steakhouse & Bar, Chef Josh Smith from Delilah, and more. The vast selection encompasses a variety of cuisines and offerings to suit any diet, including vegan, vegetarian, and gluten-free options. Additional culinary experiences will be available to general admission guests, while some are exclusively available to GA+, VIP, VIP+, and All-In ticket holders.
"Food remains a cornerstone of the Life is Beautiful festival," said Sharee Macy, Director of Food & Beverage for Life is Beautiful. "We're thrilled to uphold the tradition of delivering extraordinary culinary experiences amidst the vibrant streets of downtown Las Vegas."
General Admission Culinary Experiences include:
The Pizzeria
Returning to the festival after its popular debut in 2022, The Pizzeria will offer a special selection of pies once again curated by Good Pie Owner Chef Vincent Rotolo. Pizza-lovers can explore a rotating menu crafted by the finest pizza innovators shaping the industry in our city including Metro Pizza, Yukon Pizza, Rebellion Pizza, Pizza Rock, Good Pie, Esther's Kitchen, and more. Service is limited and is only available until sellout each day.
Omakase Cantina
Curated by SecretBurger.com's Jolene Mannina, Omakase Cantina is an exclusive and intimate dining experience that will showcase each chef's unique style and talent through an omakase-style dinner. This year's featured chefs include Chef Mike Rubenstein from Vetri Cucina, Chef Oscar Amador of Anima by EDO, and Chef Josh Smith of Delilah. With only 20 seats available for the 45-minute session each day, tickets to Omakase Cantina can be purchased as an add-on experience starting August 24 by visiting this link.
2023 Beverage Program
Festival fans will get the chance to try this year's Official Craft Beers, specially brewed to mark Life is Beautiful's 10th anniversary. Created in collaboration with Big Dog Brewing, these artisanal brews embody a decade of celebration and creativity, offering festival-goers a unique and flavorful way to commemorate this special occasion.
Cool as a Cucumber (Cucumber n' Lime Lager) is an easy-drinking American craft lager that is infused with fresh cucumbers and limes. Refreshing cucumber will be evident on the nose along with a touch of lime citrus and tartness. Body is light and clean, showcasing the specialty ingredients.
A Beautiful Haze (Hazy IPA) is a crushable West Coast-style Hazy IPA that is packed with flavor and mouthfeel. You will notice juicy tropical notes of passionfruit, peach, grapefruit, pineapple, and pine. The brew is light yet silky and big in flavor and aroma, yet small in ABV, which makes it a fantastic brew.
Life is Beautiful will also serve specialty cocktails crafted by expert mixologists, batched on site, and served throughout the festival footprint. A limited selection of commemorative anniversary cocktails will be served exclusively at The Western Hotel, giving fans a must-visit spot to cool down over a delicious drink. Festival-goers can also enjoy cocktails created specifically for ticketed Omakase Cantina experiences, as well as drinks created with high-roller guests in mind, which are only available in VIP spaces. Cocktails, beer, and wine are available to guests 21 and older throughout the festival.
Exclusive Culinary Experiences include:
GA+ Exclusives
Fans with GA+ wristbands can visit the GA+ Lounge to explore carefully curated menus from dedicated food trucks, carts, and vendors – all while immersing themselves in the festival's vibrant atmosphere.
VIP+ Happy Hour
Featuring high profile chefs in a quick-service setting, daily happy hours will take place on the exclusive VIP+ viewing deck overlooking the Downtown Stage, where fans can enjoy elevated grab-and-go bites from China Poblano, Jaleo, Echo & Rig, Casa Playa, and Main St. Provisions.
Artist Hospitality Lounge
All-In guests and festival artists will be treated to a daily culinary pop-up hosted by some of the city's most brilliant culinary minds. Promising a menu of small bites along with surprise experiences, fans can enjoy complimentary dishes from a variety of Las Vegas-based restaurants including Sparrow + Wolf, Momofuku Las Vegas, and La Strega & Harlo Steakhouse & Bar.
The Full 2023 Life is Beautiful culinary lineup includes:
Community Curators

Vincent Rotolo of Good Pie
Jolene Mannina of Secret Burger

Artist Hospitality Pop Ups

SPARROW + WOLF
MOMOFUKU LAS VEGAS
LA STREGA & HARLO STEAKHOUSE & BAR

Omakase Cantina

VETRI CUCINA
DELILAH
ANIMA BY EDO

VIP+ Happy Hour

CHINA POBLANO
JALEO
ECHO & RIG
CASA PLAYA
MAIN ST. PROVISIONS

The Pizzeria

BROOKLYN'S BEST PIZZA & PASTA
ESTHER'S KITCHEN
GOOD PIE
METRO PIZZA
MONZU
OLD SCHOOL PIZZERIA
PIZZA ROCK
REBELLION PIZZA
YUKON PIZZA

General Restaurant Program

DELILAH
ANIMA BY EDO
METRO PIZZA
VETRI CUCINA
SPARROW + WOLF
LA STREGA
MOMOFUKU LAS VEGAS
HARLO STEAKHOUSE & BAR
PIZZA ROCK
MAIN ST. PROVISIONS
CASA PLAYA
ECHO & RIG
JALEO BY JOSÉ ANDRÉS
AFTERS ICE CREAM
NIGHT + MARKET
TACOTARIAN
TEMAKI TIME
CHINA POBLANO BY JOSÉ ANDRÉS
ESTHER'S KITCHEN
COUSINS MAINE LOBSTER LAS VEGAS
SHAKE SHACK

…and more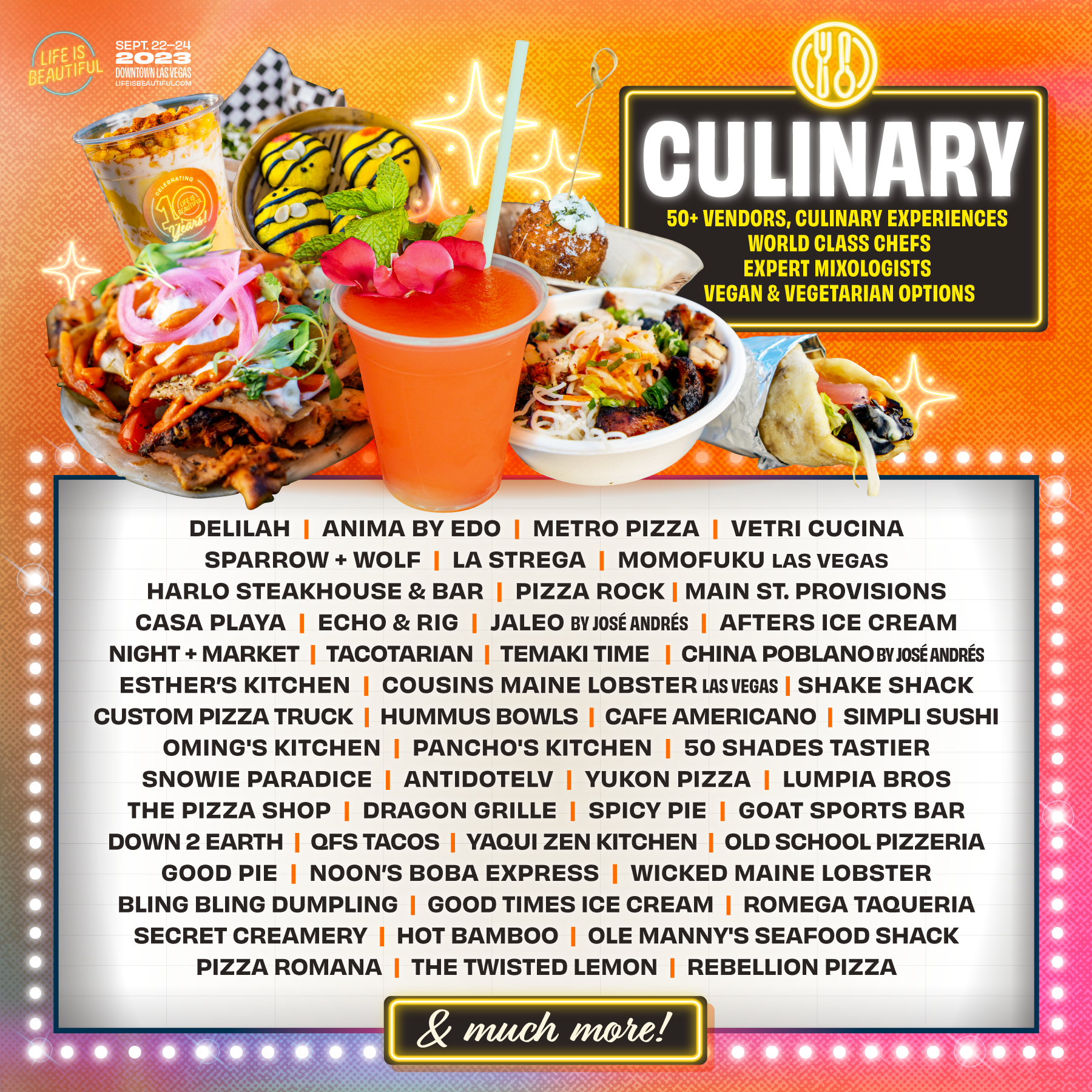 Tickets for Life is Beautiful's 10th anniversary celebration are now on sale. Starting at $395 for 3-day GA passes or $195 for 1-Day passes, fans can purchase and explore other ticket options here. To buy tickets or to find out more information about Life is Beautiful, visit www.lifeisbeautiful.com or follow along on social media on Facebook, Instagram, Twitter, and YouTube.
# # #
About Life is Beautiful
Celebrating 10 years in September 2023, Life is Beautiful is Las Vegas' premier music and arts festival. Attracting more than 1 million fans to Downtown Las Vegas over the festival's lifespan, the annual 3-day event delivers an eclectic range of immersive experiences including music sets from chart-topping performers, eye-catching art installations, culinary showcases, and more. Life is Beautiful was born as part of the major revitalization of Downtown Las Vegas in 2013 and has helped transform the surrounding DTLV community into a bustling destination while contributing over $400M of economic impact and cultural capital to the area. What started as an event has become something more: a symbol of connection, joy and creativity.
Summary
Article Name
LIFE IS BEAUTIFUL ANNOUNCES 2023 CULINARY LINEUP
Description
LIFE IS BEAUTIFUL ANNOUNCES 2023 CULINARY LINEUP