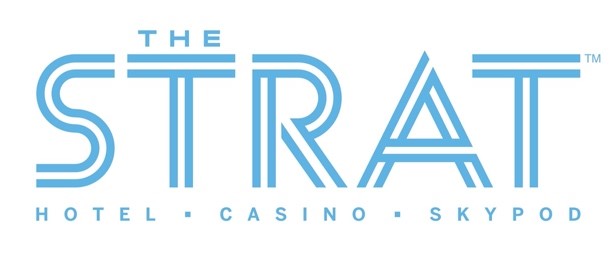 Night Ranger and Stephen Pearcy Performances at
The STRAT Hotel, Casino & Tower Rescheduled for
Presidents' Day Weekend 2024
Multi-platinum band, Night Ranger, and Stephen Pearcy, the voice of RATT, to bring '80s
rock sound to The STRAT Theater on Friday, Feb. 16, 2024 and Saturday, Feb. 17, 2024.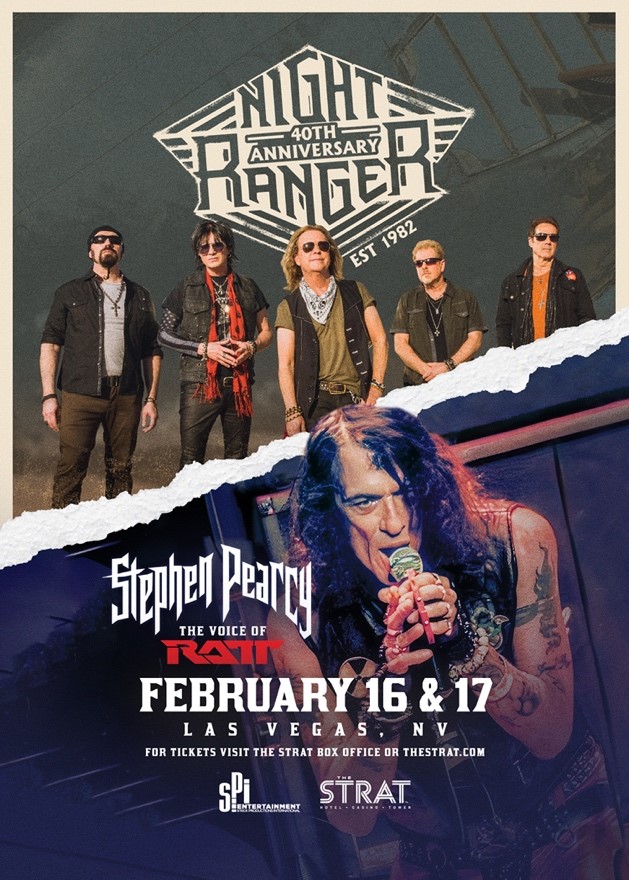 The STRAT Hotel, Casino & SkyPod and SPI Entertainment have announced that the performances by Night Ranger and Stephen Pearcy, originally scheduled for Friday, Sept. 1 and Saturday, Sept. 2, have been moved to Friday, Feb. 16, 2024 and Saturday, Feb. 17, 2024.
Night Ranger has earned widespread recognition that includes both multi-platinum and gold album status all while leaving their indelible mark on the music industry with a long list of best-selling albums, including "Dawn Patrol," "Midnight Madness," "7 Wishes," "Big Life" and "Man In Motion." Their popularity is fueled by an impressive number of instantly recognizable hit singles and signature album tracks, including legendary titles such as "Sister Christian," "Don't Tell Me You Love Me," "When You Close Your Eyes," the anthemic "(You Can Still) Rock In America," along with "Sentimental Street," "Goodbye," "Sing Me Away" and "Four in the Morning."
With more than 17 million albums sold worldwide, Night Ranger has performed across more than 4,000 stages and captivated a radio audience that exceeds 1 billion. The band, which includes Jack Blades, Kelly Keagy, Brad Gillis, Eric Levy and Keri Kelli, continues to grow its ever-evolving fan base and is proof that powerful songs, combined with incredibly talented musicians, is the formula for continued success.
Pearcy formed RATT in Los Angeles in 1982 from his previous band, Mickey RATT, setting the stage for the band's nearly four decades of success. Recognizing the star power and potential of RATT, Atlantic Records signed the band and released "Out of the Cellar," which became the first in a series of multi-platinum successes. Anchored by Pearcy's voice, the band released eight albums and played thousands of shows worldwide, all the while selling more than 20 million records. RATT and Mickey RATT songs are featured regularly in film and TV, including "Point Break," "Weird Science," "The Golden Child," "Wicked City," "Cobra Kai," "The Goldbergs," "Young Sheldon;" Academy Award-winning movie, "The Wrestler" and Emmy Award-winning "Stranger Things;" among others.
Tickets will be honored for the rescheduled dates. Those wishing to receive a refund must do so at their original point of purchase. For additional inquiries, please reach out to The STRAT ticketing by calling 702-383-5210. Show times will be at 8 p.m. with doors opening at 7 p.m. Ticket prices start at $75 and can be purchased at https://tickets.thestrat.com/eventperformances.asp?evt=47. Tickets for the Night Ranger VIP experience, including one premium reserved ticket; pre-show meet and greet; one limited edition merchandise gift; and photo opportunity with Night Ranger, are also available and priced at $500.
Accommodating up to 950 guests, The STRAT Theater includes a party pit directly in front of the stage, making it one of the most intimate showrooms in Las Vegas. Prior to Night Ranger's shows, the Red Rocker, Sammy Hagar; epic rock band, Cheap Trick; and GRAMMY award winner, Rick Springfield, have most recently taken the stage.
More information about The STRAT and the show is available at TheSTRAT.com.
p;
About The STRAT Hotel, Casino & Tower
The STRAT Hotel, Casino & Tower, formerly the Stratosphere, Casino, Hotel & Tower, has introduced a full reinvention of the iconic property since Golden Entertainment, Inc. took ownership in late 2017. Located on the north Strip at the gateway to the Arts District at 2000 S. Las Vegas Blvd., the hotel offers 2,427 guest rooms, including the newly remodeled "Elevate" series rooms and suites, and an 80,000-square-foot casino. The 1,149-foot STRAT Tower is comprised of Top of the World, serving award-winning cuisine in a 360-degree rotating dining room on the 106th floor; the Observation Deck, which offers SkyJump, 108 Eats and 108 Drinks, located on the 108th floor; and thrill rides, located at the top of the tower, including Big Shot and X-Scream. The STRAT's main floor has introduced CHĪ Asian Kitchen, PT's Wings & Sports, View Lounge and STRAT Café, each offering chef-driven cuisine; the William Hill Sports Book; and REMIX Lounge. The STRAT offers two resort-style pools, WET24, an adult-only and top optional pool located on the rooftop of the 24th floor, open seasonally; and Swim & Social, on the eighth story rooftop with a poolside café. A variety of shows and entertainment include "Banachek's Mind Games Live," a mentalist act; iLuminate, a multi-sensory blend of dance and technology; ROUGE, an exciting, topless spectacular and immersive, sensual experience; and L.A. Comedy Club, which showcases up-and-coming stand-up comics. Golden Entertainment, Inc.'s innovative guest loyalty rewards program, True Rewards, is now available at The STRAT and 140+ other locations. More information is available at www.TheSTRAT.com or by calling 702-380-7777. The STRAT is on social media at Facebook, Twitter, Instagram and YouTube.
About Golden Entertainment, Inc.
Golden Entertainment owns and operates a diversified entertainment platform, consisting of a portfolio of gaming and hospitality assets that focus on casino, branded taverns, and distributed gaming operations. Golden Entertainment operates over 15,800 slots, over 100 table games, and over 6,000 hotel rooms. Golden Entertainment owns eight casinos in Southern Nevada and 65 gaming taverns in Nevada. Through its distributed gaming operations in Nevada and Montana, Golden Entertainment operates video gaming devices at nearly 1,000 locations. For more information, visit www.goldenent.com.
About SPI Entertainment:
SPI Entertainment, helmed by award-winning Producer and Founder Adam Steck and Senior Vice President Alex Schechter, is a leading Theatrical Production Company with several buzzed-about resident shows in the entertainment capital of the world, Las Vegas, and several shows touring internationally. With a successful track record of building entertainment brands and partnering with world-class celebrities, SPI has become the preeminent Theatrical Producer and Theater Operator in Las Vegas and beyond. In addition to SPI Entertainment producing dozens of sold-out and critically acclaimed shows, SPI Entertainment partnered with The STRAT Hotel, Casino & SkyPod to bring an exciting lineup of productions and residencies to the STRAT Theater, including sold-out performances by Rock & Roll Hall of Famer Sammy Hagar; epic rock band, Cheap Trick; and GRAMMY award-winning artist, Rick Springfield; as well as manages and operates the Thunderland Showroom inside the Excalibur Hotel and Casino. SPI Entertainment has produced Mike Tyson: Undisputed Truth at MGM Grand; Boyz II Men at The Mirage; Australia's Human Nature Sings Motown & More at The Venetian Resort Las Vegas; and The Australian Bee Gees Show at Excalibur Hotel & Casino. SPI's biggest hit, Australia's Thunder from Down Under at Excalibur Hotel & Casino, is one of the longest-running productions in the history of Las Vegas and highest-grossing male revue in the world, with more than 1,000 shows a year throughout the United States and beyond.
Summary
Article Name
Night Ranger and Stephen Pearcy Performances at The STRAT Hotel, Casino & Tower Rescheduled for Presidents' Day Weekend 2024
Description
Night Ranger and Stephen Pearcy Performances at The STRAT Hotel, Casino & Tower Rescheduled for Presidents' Day Weekend 2024