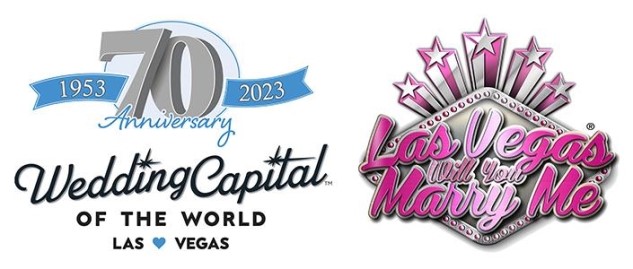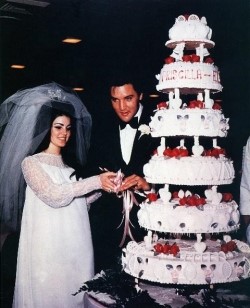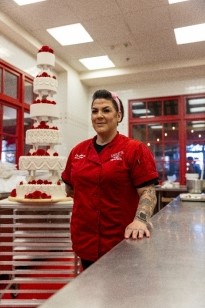 L: Priscilla and Elvis Presley; R: Chef Christina Nasso, general manager, Carlo's Bake Shop Las Vegas, poses with show cake inspired by Presley wedding cake.
(Photos Courtesy L to R: Getty Images, @tylerraemills at JMPForce)
PHOTOS AVAILABLE: REPLICA OF PRESLEY WEDDING CAKE BY BUDDY VALASTRO'S WORLD-FAMOUS BAKERY, CARLO'S BAKE SHOP IN LAS VEGAS, TO BE ON VIEW AT WEDDING CAPITAL OF THE WORLD'S 70TH ANNIVERSARY CELEBRATION
General Admission Tickets Still Available to Sept. 3 Event at Caesars Palace
Buddy Valastro's World Famous Bakery, Carlo's Bake Shop in Las Vegas, has provided a glimpse of the recreation of Elvis and Priscilla Presley's renowned 1967 wedding cake, which will be on view at the Wedding Capital of the World's 70th Anniversary Celebration on Sunday, Sept. 3, at Caesars Palace. The event commemorates the first time Las Vegas was referred to as the "Wedding Capital of the World," which occurred in an article the London Daily Herald published on Sept. 23, 1953.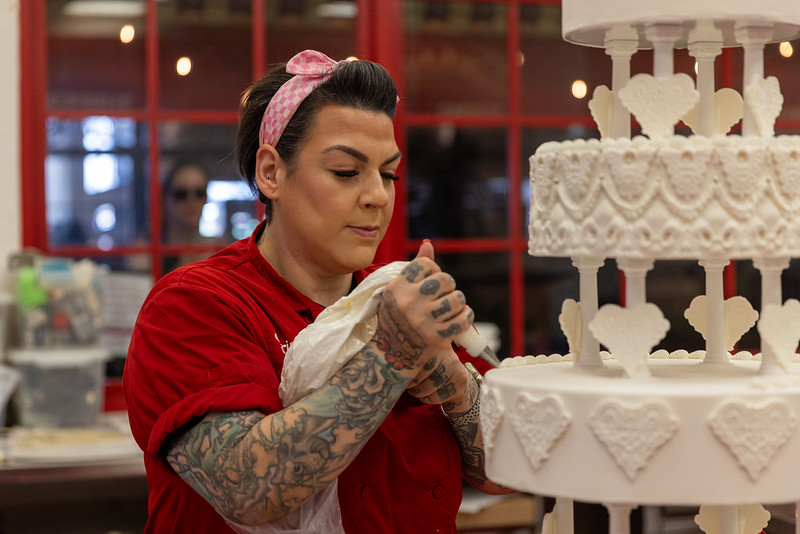 General admission tickets to the celebration, which features a live production show paying tribute to seven decades of love stories in Las Vegas as well as a mass wedding vow renewal, are still available.
Inspired by the original cake's dimensions and décor scheme, the Carlo's Bake Shop version consists of six tiers, measures more than 4 feet tall and was assembled over a span of two days. Decorative elements inspired by the original include red roses and white heart motifs. The towering confection will be featured as a show cake during the Sept. 3 celebration, alongside a life-size cutout of Elvis and Priscilla cutting their cake, and guests will be able to take their photos beside this display. Additionally, Carlo's Bake Shop will serve individual slices of cake in flavors providing a fresh spin on the classic Presley cake for attendees to enjoy during the extravaganza.
"I am a huge fan of Elvis and have two tattoos depicting the King," said Nasso. "I'm honored to recreate the legendary six-level cake and replicate this iconic symbol of love and marriage in Las Vegas."
General admission tickets to the Sept. 3 event are still available and may be purchased at weddings.vegas/event.
ABOUT CARLO'S BAKE SHOP AND BUDDY VALASTRO'S RESTAURANT GROUP
Celebrity Baker Buddy Valastro, a pioneer of the custom cake movement, has accomplished an insurmountable amount of influence through his work with the long-standing family business Carlo's Bake Shop and the hit TLC series "Cake Boss." With four New York Times best-selling books, four hit television shows and a following of more than 30 million social media fans internationally, Valastro continually establishes himself as a powerhouse in the culinary field. Established in 1910, Carlo's Bake Shop is a family-owned business with 12 locations nationally and numerous Cake ATM locations in North America and Canada. In 2013, Valastro opened Buddy V's Ristorante at the Grand Canal Shoppes at The Venetian® Resort Las Vegas focusing on the savory side of the Valastro family with dishes passed down from generation to generation, followed by a Carlo's Bake Shop in 2014. In 2020, Valastro opened PizzaCake at Harrah's Las Vegas followed by additional new concepts, The Boss Cafe by Buddy Valastro and Buddy's Jersey Eats at The LINQ Hotel + Experience in Las Vegas in 2022. 2023 is another exciting year for Valastro with the filming of his new television shows on the A+E Network, the opening of additional concepts and locations of existing favorites, and a growing e-commerce nationwide shipping business. For additional information on Buddy Valastro Restaurants please visit www.buddyvsrestaurants.com or www.carlosbakery.com. Guests can follow Carlo's Bake Shop on Instagram @carlosbakery.
ABOUT THE WEDDING CAPITAL OF THE WORLD
This September 3, Las Vegas will celebrate its 70th anniversary as the Wedding Capital of the World™. With more than five million "I do's" and counting, each year Las Vegas conducts more destination weddings than any other place on the planet. For well over 70 years a "Vegas wedding" has captured the public imagination as the ultimate quick, stress-free, fun, glamorous wedding. For more information about the Wedding Capital of the World™ or the Office of the Clark County Clerk, Nevada, visit weddings.vegas.
Summary
Article Name
Replica of Elvis &Priscilla's Wedding Cake by Buddy Valastro's Carlo's Bake Shop Commemorates 70 Years of Vegas Weddings
Description
Replica of Elvis &Priscilla's Wedding Cake by Buddy Valastro's Carlo's Bake Shop Commemorates 70 Years of Vegas Weddings