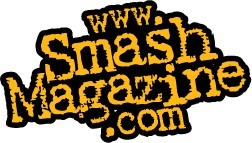 Smash Magazine turns up the volume with Unwritten Law, Rivers of Nihil and more this May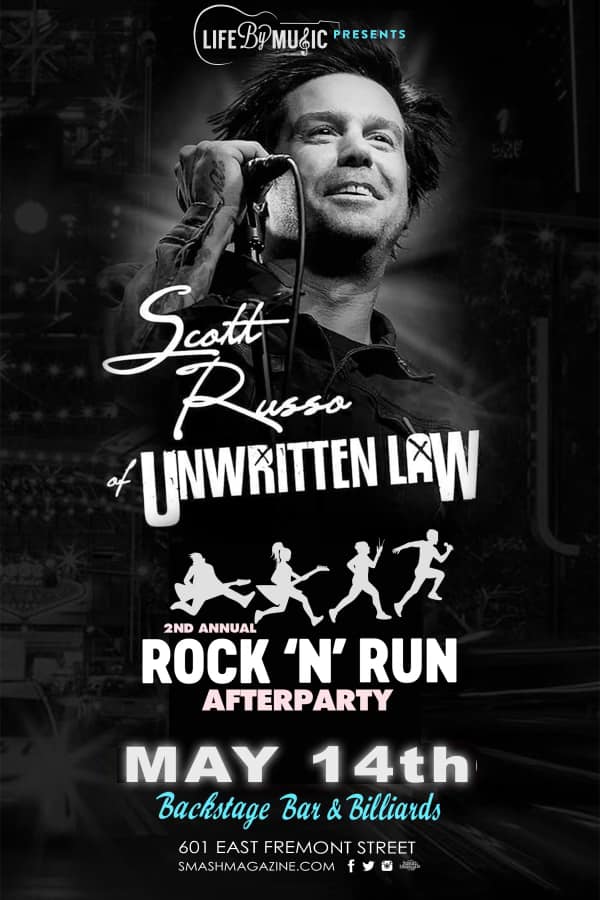 Smash Magazine is turning up the volume with new concerts at Backstage Bar & Billiards, Rockstar Bar and Fremont Country Club. Unwritten Law rocks Backstage Bar & Billiards in May and the music continues throughout the month with Davey Suicide, and metal rockers Rivers of Nihil. Mark those calendars for even more live music including Trapt in June, the Nu Metal Madness Tour featuring (hed) p.e. in July and Wavves in August. All tickets are on sale now unless indicated and are available at www.smashmagazine.com.
Straight from the underground, Smash Magazine pumps live music through the veins of the Las Vegas Valley! Download the FREE MOBILE APP by texting "SMASH" to '888-111' to buy concert tickets, enter prize giveaways and read the latest community news! Available on Apple and Android devices.
MAY:
Date: Wednesday, May 11, 2022
Headliner: Black Marble
Support: Gap Girls, Mutual
Venue: Backstage Bar & Billiards (601 Fremont St.)
Doors: 8 p.m.
Cost: Starting at $20 plus applicable fees
Age: 21+
Genre: Electronic
Date: Saturday, May 14, 2022
Headliner: Unwritten Law
Support: Otherwise, Them Evils, Cairo Knife Fight, Part II and the Electric Boogaloos
Venue: Fremont Country Club (601 Fremont St.)
Doors: 6 p.m.
Cost: Starting at $30 plus applicable fees
Age: 21+
Genre: Rock
Date: Monday, May 16, 2022
Headliner: Goatwhore
Support: Sheer Cold, Foul Deformity, Hiding Outside, Volterrum
Venue: Backstage Bar & Billiards (601 Fremont St.)
Doors: 8 p.m.
Cost: Starting at $12 plus applicable fees
Age: 21+
Genre: Metal
Date: Friday, May 20, 2022
Headliner: Author & Punisher
Support: MVTANT
Venue: Backstage Bar & Billiards (601 Fremont St.)
Doors: 8 p.m.
Cost: Starting at $15 plus applicable fees
Age: 21+
Genre: Metal
Date: Friday, May 20, 2022
Headliner: Davey Suicide
Support: The Funeral Portrait, Oh The Horror, Wrath Of An Empire
Venue: Rockstar Bar (6730 Las Vegas Blvd)
Doors: 8 p.m.
Cost: Starting at $18 plus applicable fees
Age: 21+
Genre: Metal
Date: Sunday, May 22, 2022
Headliner: DRI
Support: Life's Torment, Lean 13, Societies Infection, Substance Death
Venue: Backstage Bar & Billiards (601 Fremont St.)
Doors: 8 p.m.
Cost: Starting at $20 plus applicable fees
Age: 21+
Genre: Rock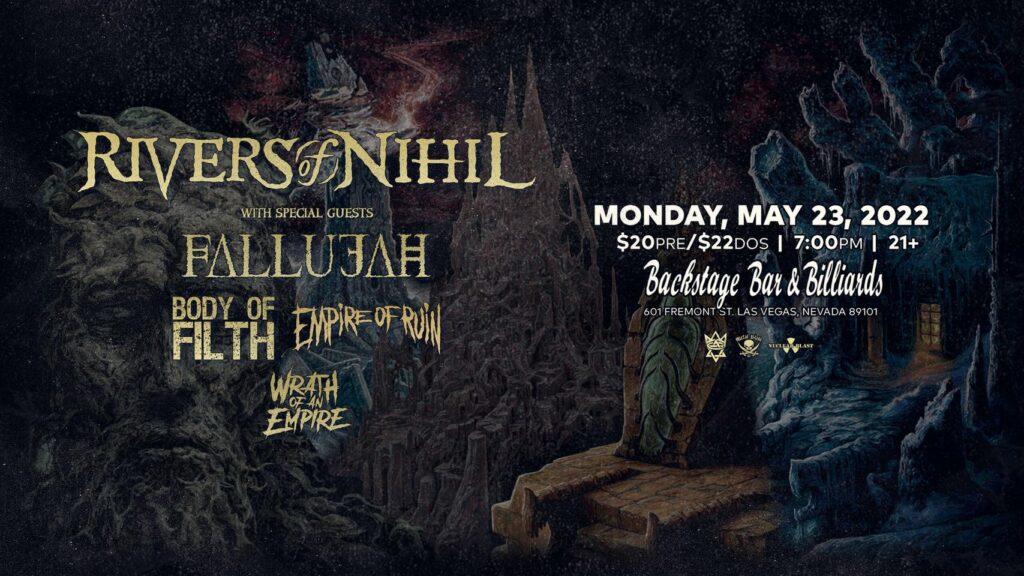 Date: Monday, May 23, 2022
Headliner: Rivers Of Nihil
Support: Fallujah, Body Of Filth, Empire Of Ruin, Wrath Of An Empire
Venue: Backstage Bar & Billiards (601 Fremont St.)
Doors: 7 p.m.
Cost: Starting at $20 plus applicable fees
Age: 21+
Genre: Metal
Date: Monday, May 23, 2022
Headliner: Hail The Sun
Support: Strawberry Girls, Andres, Amarionette
Venue: Rockstar Bar (6730 Las Vegas Blvd)
Doors: 7 p.m.
Cost: Starting at $20 plus applicable fees
Age: 21+
Genre: Hardcore
Date: Friday, May 27, 2022
Headliner: Blaze Ya Dead Homie & King Klick
Support: Stacc Styles, Jay Villian, Devious T, Donnie Menace, Fear You
Venue: Backstage Bar (601 E. Fremont Street)
Doors: 8 p.m.
Cost: Starting at $12 plus applicable fees
Age: 21+
Genre: Hip Hop
Date: Sunday, May 29, 2022
Headliner: The Veer Union
Support: Late Night Savior, Madzilla
Venue: Rockstar Bar (6730 Las Vegas Blvd)
Doors: 8 p.m.
Cost: Starting at $12 plus applicable fees
Age: 21+
Genre: Rock
COMING SOON:
Date: Thursday, June 2, 2022
Headliner: Through the Roots
Venue: Backstage Bar & Billiards (601 Fremont St.)
Doors: 8 p.m.
Cost: Starting at $18 plus applicable fees
Age: 21+
Genre: Reggae
Date: Saturday, June 4, 2022
Headliner: FAILURE
Venue: Backstage Bar & Billiards (601 Fremont St.)
Doors: 8 p.m.
Cost: Starting at $25 plus applicable fees
Age: 21+
Genre: Alternative Rock
Date: Thursday, June 16, 2022
Headliner: Nonpoint
Support: VRSTY, Alura and Pure
Venue: Backstage Bar & Billiards (601 Fremont St.)
Doors: 8 p.m.
Cost: Starting at $20 plus applicable fees
Age: 21+
Genre: Metal
Date: Thursday, June 23, 2022
Headliner: Trapt
Venue: Backstage Bar & Billiards (601 Fremont St.)
Doors: 8 p.m.
Cost: Starting at $20 plus applicable fees
Age: 21+
Genre: Rock
Date: Saturday, July 2, 2022
Headliner: Allegaeon
Support: Aenimus, Vatican Falling, Wrath Of An Empire, Asylum Of Ashes, Hands Of Oblivion
Venue: Backstage Bar & Billiards (601 Fremont St.)
Doors: 7 p.m.
Cost: Starting at $20 plus applicable fees
Age: 21+
Genre: Metal
Date: Tuesday, July 6, 2022
Headliner: Ty Segall & The Freedom Band
Venue: Backstage Bar & Billiards (601 Fremont St.)
Doors: 8 p.m.
Cost: Starting at $20 plus applicable fees
Age: 21+
Genre: Rock
Date: Tuesday, July 12, 2022
Headliner: Primitive Man
Support: Jarhead Fertilizer, Body Void, Elizabeth Colour Wheel, Spirit Posession
Venue: Backstage Bar & Billiards (601 Fremont St.)
Doors: 8 p.m.
Cost: Starting at $18 plus applicable fees
Age: 21+
Genre: Metal
Date: Wednesday, July 20, 2022
Headliner: Subhumans and Generacion Suicida
Venue: Rockstar Bar (6730 Las Vegas Blvd)
Doors: 7 p.m.
Cost: Starting at $20 plus applicable fees
Age: 21+
Genre: Rock
Date: Thursday, July 28, 2022
Headliner: Nu Metal Madness Tour featuring (hed) p.e.
Support: Crazy Town, Adema, Flaw and NE Last Words
Venue: Backstage Bar & Billiards (601 Fremont St.)
Doors: 8 p.m.
Cost: Starting at $25 plus applicable fees
Age: 21+
Genre: Rock
Date: Thursday, Aug. 25, 2022
Headliner: Wavves – 12 Years King Of The Beach
Support: Boyo and Smut
Venue: Backstage Bar & Billiards (601 Fremont St.)
Doors: 8 p.m.
Cost: Starting at $20 plus applicable fees
Age: 21+
Genre: Rock
Date: Friday, Sept. 9, 2022
Headliner: Mustard Plug & Buck-O-Nine
Support: Omnigone, Blvd. Bullies
Venue: Backstage Bar & Billiards (601 Fremont St.)
Doors: 8 p.m.
Cost: Starting at $17 plus applicable fees
Age: 21+
Genre: Ska
Date: Wednesday, Oct. 19, 2022
Headliner: Eskimo Cowboy and Attack Attack
Venue: Backstage Bar & Billiards (601 Fremont St.)
Doors: 8 p.m.
Cost: Starting at $25 plus applicable fees
Age: 18+
Genre: Rock
Summary
Article Name
Smash Magazine turns up the volume with Unwritten Law, Rivers of Nihil and more this May
Description
Smash Magazine turns up the volume with Unwritten Law, Rivers of Nihil and more this May