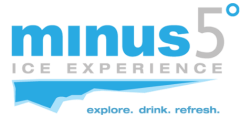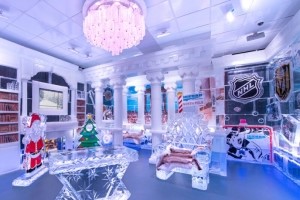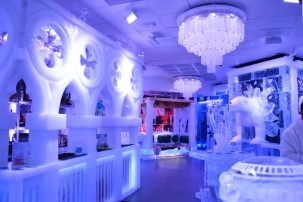 L: ICEBAR interiors; R: Minus5 Ice Experience at The Venetian Resort interiors.
(Photos courtesy of ICEBAR and Minus5° Ice Experience)
ICEBAR AT THE LINQ PROMENADE AND MINUS5º ICE EXPERIENCE AT THE VENETIAN RESORT AND MANDALAY BAY CELEBRATE NEW YEAR'S EVE
WHAT:
Celebrate New Year's Eve at ICEBAR at The LINQ Promenade and Minus5° Ice Experience at The Venetian Resort Las Vegas and Mandalay Bay with a complimentary champagne toast every hour to mark the new year around the globe beginning at 11 a.m. with Pakistan and ending in Las Vegas at midnight. The full schedule follows:
11 a.m. – Pakistan
12 p.m. – Dubai
1 p.m. – Russia
2 p.m. – Finland
3 p.m. – Norway
4 p.m. – Iceland
5 p.m. – Portugal
6 p.m. – Brazil
7 p.m. – Greenland
8 p.m. – Canada
9 p.m. – New York City
10 p.m. – Chicago
11 p.m. – Denver
12 a.m. – Las Vegas
Also, for guests who wish to celebrate in style, the ice attractions offer The Ultimate $250 New Year's Eve VIP Package which includes two cocktails served in signature ice glasses, a souvenir fur coat, souvenir Russian snow hat and a 5-by-7-inch framed photo.
WHO:
With three Las Vegas Strip locations, Minus5° Ice Experience at The Venetian Resort and Mandalay Bay and ICEBAR at The LINQ Promenade allows guests to chill with more than 100 tons of ice while exploring an immersive attraction featuring themed sculptures and "Instagramable" moments. Each attraction offers a distinctively chill, family-friendly vibe for people of all ages, with signature frosty cocktails served in glasses made entirely of ice for guests ages 21 and older.
WHEN:
Friday, Dec. 31
11 a.m. to 12 a.m.
WHERE:
Minus5° Ice Experience at The Venetian Resort
3377 S Las Vegas Blvd.
Las Vegas, NV 89109
(702) 293-3388
Minus5° Ice Experience at Mandalay Bay
3930 S Las Vegas Blvd
Las Vegas, NV 89119
(702) 740-5800
ICEBAR at The LINQ Promenade
3545 S. Las Vegas Blvd.
Las Vegas, NV 89109
(702) 489-3545
WEBSITE:
www.Minus5Experience.com
PRIVATE EVENTS:
For private events at Minus5° Ice Experience and ICEBAR. Please contact Candace Bowman at [email protected]
SOCIAL MEDIA:
Facebook and Instagram: @Minus5Experience
Twitter: @Minus5IceBar
Summary
Article Name
ICEBAR At The LINQ Promenade And Minus5° Ice Experience At The Venetian Resort And Mandalay Bay Celebrate New Year's Eve
Description
ICEBAR At The LINQ Promenade And Minus5° Ice Experience At The Venetian Resort And Mandalay Bay Celebrate New Year's Eve